Posted by Ben Golliver.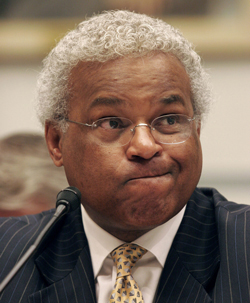 On Monday, the National Basketball Players Association
disbanded so that it could file antritrust lawsuits
against the NBA, charging the league with an illegal boycott. By Wednesday, its executive director, Billy Hunter, was publicly raising the possibility that the players could form their own professional basketball league independent of the NBA.
Writer Toure
reports that Hunter addressed the possibility during a panel discussion.
Billy Hunter: "The season is not yet on life support. There's still time to put on an abbreviated season... The players decision to blow up the union [decertify] was unanimous. They were high-fiving, sayin let's get it on! ... The owners are scared of Lebron style movement and want to keep players wedded to franchises.... Maybe we can start our own league. There are facilities where we can do that. Can't play at MSG but can play at St John's... There's talk of getting a TV deal and creating a new league but it'd have to be with a network that's unafraid to cross the NBA."
Not to overuse legal phrases because we're stuck in this quagmire of lawyers, but the burden of proof is on the players -- whether that's as individuals, a group, a union or a trade association -- to show that they can organize -- not to mention profit from -- anything besides one-off exhibition games. Since the lockout went into effect in July, the NBA's biggest stars have criss-crossed the country for charity and drawn crowds of varying sizes along the way. When big draws like
LeBron James
and
Kevin Durant
were involved, there was hardly an empty seat.
But when the players have attempted to put together anything larger in scale, it hasn't worked from an economics perspective. There was the entertaining Impact Basketball Competitive Training Series in Las Vegas, which drew dozens of players for two weeks of competitive 5-on-5 action. It also drew dozens of fans, literally, and never came close to selling out a gym that seats 500 people. There was also a globetrotting world tour that was expected to feature every big name star imaginable; that fizzled completely before the first stop, a visit to nearby Puerto Rico, could get off the ground.
Forming their own league -- however loosely you want to define that term -- is much more difficult than it sounds. The personnel infrastructure to support it, the buildings to house it, the sponsors to help pay for it, the television network to broadcast it: all of those are major, difficult questions that would need to be answered. Those answers would take precious time too.
A players' league is not impossible but it's also not particularly probable. The players would wind up playing, and risking injury, for a small fraction of their NBA salaries.
Hunter likely floats the idea here because he must appear totally serious about the players' antitrust lawsuits against the league. Even though most expect the lawsuits to lead to more negotiations rather than a years-long legal battle, Hunter has to at least pay lip service to the possibility of an alternative professional basketball reality without the NBA. Unfortunately, much like the decision to issue the disclaimer of interest, forming a league is something that he should have been planning carefully months ago if he felt a protracted legal battle was a real possibility. There's no reason that NBA All-Stars shouldn't be putting on a 10-city goodwill tour throughout December, entertaining fans and applying pressure on the negotiations along the way.
Instead, more players are heading overseas and Hunter continues to talk about future possibilities that will likely never come to fruition. Everybody loses.
Hat tip: Slam Online