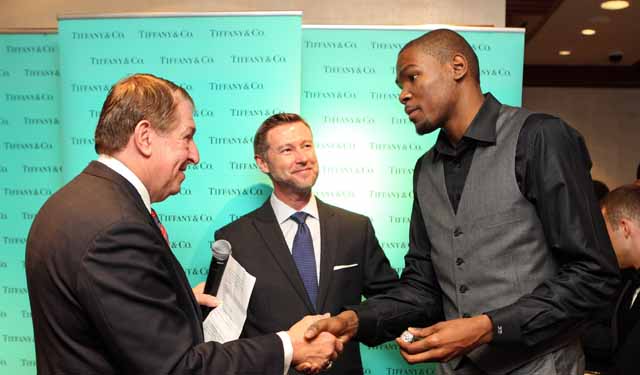 By Matt Moore
Billy Hunter has had his turn at the wheel, and drove the players off a cliff. David Stern put the owners into the high gear they wanted and now they're wedged on a fire hydrant. When they say "the collective bargaining process has broken down," what the mean is "we broke collective bargaining."
It's time for someone else to take over.
Clearly Stern has lost the ability to keep his extremist elements in check. Michael Jordan, who helped draft
Sean May
and who decided a worthy investment was professional basketball in Charlotte after it had been burned? Dan Gilbert, the comic sans wiz who signed off on bringing superstar talent next to LeBron like
Wally Szczerbiak
,
Ben Wallace
, and
Mo Williams
? Robert Sarver, who if you go out for dinner with you have to make sure he doesn't sell your entree for cash an a meal to be chosen later? These are the guys running the show? Stern's legacy will be dicatated by how this ends; it's already been impacted by how far it's come.
Hunter barely had a consensus. After months of players asking about decertification and why they weren't pursuing it sooner, he elects to disclaim interest at a meeting with three player reps missing entirely, most of the reps woefully unaware of what the deal meant, without the support of most of the agents, and without even allowing for the possibility of a vote. In short, union leadership lost sight of how to connect with and communicate issues to the players. Marc Stein of ESPN.com reported this week that the union
denied
player reps a hard copy of the owners' proposal two weeks ago. They need someone who the players can trust.
So forget Paul Allen sitting in with stone-faced breathing, forget Peter Holt trying to play the hardliner he's not really, and forget Dan Gilbert and the gut he wants them to trust. Forget
Derek Fisher
who really has only been saddled with an impossible game to win, forget "Money Mase" Roger Mason and his accidental tweets, forget
Kevin Garnett
and his spittle. Let's get some guys in that represent both factions to get a deal in place.
On a podcast with Bill Simmons, Ric Bucher and Stein were wondering about who could take over that would truly represent either side. Bucher briefly suggested Jerry Colangelo. And in short, that's genius.
Colangelo has owned the
Suns
, the Diamondbacks, the Mercury, and the Rattlers of the AFL. His tenures weren't always great and were sometimes disastrous, but he also has built teams with success, worked with superstars, and has been in the league
forever
. He's current head of USA Basketball. He's able to put the power of the game first while also representing ownership. He has the players' respect and can communicate with them, while also working with the lunatics running the NBA asylum currently.
You want an endorsement? How about the President of the United States, told Colangelo (via the
Arizona Republic
):
"He looked over to me, held out his hand and said, 'Jerry, you've got to help solve this lockout. We've got to get hoops going again.'

"I told him, 'I'm as close as a telephone.' "
via
President Barack Obama wants his basketball
.
But who's he going to negotiate with? Who can possibly represent the players, given that no one player has the background or political strength to do it?
Shane Battier
certainly has the mind, but not the support. Kevin Garnett has the support but if they have the idea to send him into a bargaining room as lead negotiatior someone needs to tranq him or we're not having basketball this decade. So who on earth could do it?
We need to go Worldwide.
William Wesley, power broker to the stars. Firmly in LeBron's camp? Sure. But he's also in with Rip Hamilton, Ron Artest, well, ok, really nearly every player in the league. He's about brand expansion and the power of the athlete. He brings with him clout from connections with the shoe companies, a history with Michael Jordan, and a savvy about himself that few possess. Wesley doesn't have to be an economist or an expert in labor relations, he's got Kessler the pit bull and the now-defunct union's economist to help. All he needs to do is weild power and leverage. He has the clout that Hunter does not.
The agents will, of course, go berserk on this idea. But it's the players that matter, and the majority of those players have a positive regard for Wes. They will be represented, they will be informed, they will have a voice they believe in.
Maybe those two can find a way around the road blocks that are holding up the season. Hunter and Stern can keep lobbing back ultimatums, insults, and law suits while Colangelo and Wesley try and find a way out of this mess. One thing's for sure.
They can't do any worse.