Posted by Ben Golliver.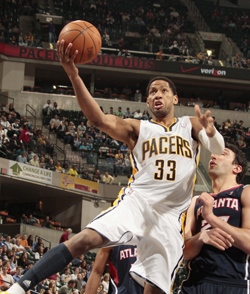 We're well into the fifth month of the the NBA lockout with no end in sight. If you're not blaming NBA commissioner David Stern by now, either your name is Adam Silver or you just don't care about American professional basketball.
You can add Indiana
Pacers
forward
Danny Granger
to the long, long, long list of people who believe Stern is responsible for causing harm to his own league by mishandling the ongoing labor negotiations.
In an interview with NBC SportsTalk
, Granger, formerly the Pacers' player representative to the union, points the finger squarely at Stern.
"Definitely let a little upset about it. David Stern, to his credit, he has grown the NBA. But as far as with the negotiations and where they have went in the last six or eight months, I don't think he's done a good job of conveying to the owners what's the most important thing for an NBA team, for an NBA season. And, for the NBA as a whole organization, the lockout has really damaged the game. How much, I don't think we know yet, but we'll find out. As commissioner, I just don't think he should have let it get that far, to the point where it is right now."
As commissioner, Stern is paid to take these lumps. Granger's criticism is more than fair, and it represents a sentiment that's surely shared by thousands of fans across the country. Stern is the boss, this is going down on his watch, and the buck stops with him. He is expected to be the answer, not part of the problem.
Granger makes a key assumption though. His statements imply that Stern had the power and influence over a majority of the league's owners to save a full 82-game season if he simply put his mind to it or thought that approach was prudent. We would all assume, from a distance, that a league's commissioner would want his league to play its scheduled games, but the more we learn about the hard-line ownership contingent the more we realize that overhauling the league's financial system is a much higher priority than saving an 82-game season and, potentially, even playing a season at all this year.
It's quite possible that Stern wants games just as badly as Granger. It's quite possible that he fears the potential damage to the league even more than Granger does. So if we are going to blame Stern, let's blame him for the right reasons.
Let's blame him for reportedly making promises of profitability to owners that recently bought into the league. Let's blame him for agreeing to the last collective bargaining agreement which allegedly created a league that couldn't produce profits despite record revenues. Let's blame him for being unable to build and hold a consensus among his owners. Let's blame him for still failing to communicate the league's revenue sharing goals and philosophies clearly. Let's blame him for ratcheting up the ugly rhetoric. Let's blame him for waging a personal war of words with union lawyer Jeffrey Kessler. Let's blame him for delaying the beginning of true negotiations until way too late in the game. Let's blame him for calling in sick earlier this fall on a day when negotiations blew up. Let's blame him for each and every ultimatum and threat he's made. Let's blame him for making offers and then taking them off the table. Let's blame him for trying to shift the blame to agents. Let's blame him for repeatedly talking down to the players.
But let's stop short of blaming him alone for the damage that is being done to the NBA. For sure, there is blood on his hands, lots of it. But this has spun out of his control; he can't solve this by himself. In the end, let's settle for blaming him for not swallowing his immense pride right now so that he can proactively do his part to fashion a solution. There's still time, after all, to make the damage done to the league a thing of the past.