Posted by Ben Golliver.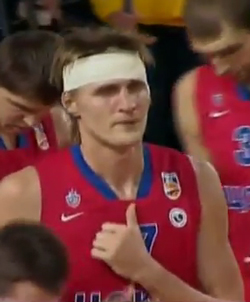 When NBA experts spent all summer talking about the "risk of injury" when players headed overseas to play, this is what they had in mind.
Former Utah
Jazz
forward
Andrei Kirilenko
, who has been dominating Euroleague play this fall for Russian powerhouse CSKA Moscow, slammed his head on the court during a Russian league game against Krasnye Krylye on Saturday.
SportsRU.com reported
that Kirilenko suffered a concussion, broke his nose and will undergo further medical evaluation. It's not yet known how long he will be sidelined.
The injury occurred as Kirilenko attempted to provide weakside help defense on an entry pass. As he flew in to break up the pass, he got tangled up and crashed to the floor, slamming his head on the hardwood. Blood immediately started flowing from above his left eye, and CSKA's medical staff rushed to his attention. His head was quickly bandaged and he was helped off the court, walking under his own power.
Kirilenko, 30, is an unrestricted free agent. He averaged 11.7 points, 5.1 rebounds, 3.0 assists, 1.3 steals and 1.2 blocks per game for the Jazz last season. Earlier this week, he was named
Euroleague weekly MVP
.
Here's the
video of the injury uploaded to YouTube by user pbleague
.