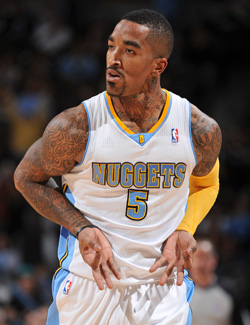 By Matt Moore
J.R. Smith
suffered a knee injury this weekend for the Zhejiang Golden
Bulls
in China, his first game in the Chinese Basketball Association. But it's after that when things got weird. The
Wall Street Journal
reports that Smith declined to receive medical attention from the team, despite strict team rules, and instead sought out his own care in Beijing. The team did not like that too much:
It's unclear how severe Mr. Smith's injury is. Zhao Bing, the Golden Bulls' general manager, said the player repeatedly declined medical treatment from the team and arranged his own treatment in Beijing instead. "We warned him that he's not allowed to go to Beijing without a proper medical check," Mr. Zhao said, expressing his displeasure at Mr. Smith's disobedience. "He just wouldn't listen."

Mr. Smith is "an experienced basketball player and a big name in NBA," Mr. Zhao said. But "I think he should have been aware that CBA is not an easy game to play either."
via
J.R. Smith Limps into Spat as Locked-Out NBAers Get Going in China - China Real Time Report - WSJ
.
But wait, it gets better:
"We would like to improve ourselves through learning from the NBA players," Zhejiang's Mr. Zhao said of his star player's refusal to heed the team's medical protocols. "That was just the first game of the season. He really didn't have to behave like this."

Mr. Zhao posted a warning to Mr. Smith on Sina Weibo on Monday afternoon, saying the player should return to team as soon as possible "or face the consequences." Mr. Smith responded in English less than an hour later, "My main goal is to get healthy! If you can't understand that then maybe you should pick another profession!"
via
J.R. Smith Limps into Spat as Locked-Out NBAers Get Going in China - China Real Time Report - WSJ
.
One game. It took J.R. Smith one game to get into a dispute with his team in China. That is simultaneously the most predictable and incredible thing in the past week. Smith's got a lot to be concerned about, considering he's an unrestricted free agent looking for his biggest contract to date whenever the NBA picks its schedule back up, if it ever picks its schedule back up.
It's also not uncommon for players to pursue their own treatment.
Andrew Bynum
notoriously has shaken off the
Lakers
' medical staff through his various knee injuries to seek out advice and treatment on his own. But the Chinese culture has been said by players who have played there to be very different, and this could spark quite a bit of tension between Smith and the club.
Wilson Chandler
, meanwhile, scored 43 points for the Zhejiang Lions (there are a lot of Zhejiang teams).
Kenyon Martin
has yet to play for the Zhejiang Tigers and
Aaron Brooks
should play his first game shortly.
But Smith's injury definitely is serving as a warning to players who are not under contract considering playing overseas during the lockout. There are risks along with the rewards. We'll have to see about the severity of the injury and how his conflict with the team plays out.