Posted by Ben Golliver.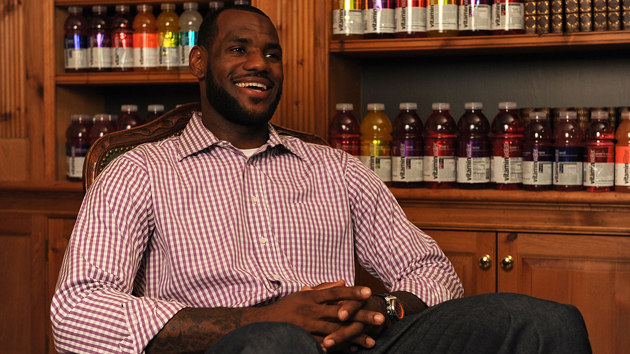 How long has the NBA lockout lasted? The NBA lockout has gone on so long that Miami
Heat
All-Star forward
LeBron James
has finally realized that "The Decision" wasn't the best idea.
Less than six months ago, the 2011 NBA Finals just lost, James took a hard line against those who criticized him in the aftermath of the television special in which he announced his intention to leave the Cleveland
Cavaliers
for the Miami Heat during the summer of 2010.
"At the end of the day,"
James said
, "all the people that were rooting for me to fail, they have to wake up tomorrow and have the same life that they had before they woke up today. They have the same personal problems they had today. I'm going to continue to live the way I want to live and continue to do the things that I want to do with me and my family and be happy with that... They can get a few days, or a few months, or whatever the case may be on being happy about not only myself, but the Miami Heat not accomplishing their goal. But they have to get back to the real world at some point."
That was June. Now it's November, and James has criss-crossed the country and traveled the world, bringing basketball to all sorts of far reaches and raising loads of money for charity, all while spending the longest amount of time away from the court since he entered the NBA in 2003. All that time off has him singing a different tune.
In an interview with The Guardian
, James says he totally understands why people would have been upset by the decision and goes so far as to apologize for hurting people.
Was James taken aback by the ferocious criticism of his screening of "The Decision"? "Um, yeah. I was surprised by it because I was making a decision for myself. I was doing something that I believed was going to make me happy and freshen me up. But looking back I can understand why a lot of people were upset. That definitely wasn't my intention: to upset people."

Does he wish he could change what he did in the summer of 2010? "I can't say I would change anything – because it would change so much that is leading to the future. But, yeah, there is definitely a better way I could have handled it, as far as the whole TV thing is concerned, and the same goes for the build-up to the announcement. A lot of people were hurt by it – and I definitely apologise to them. At the same time, you should never be afraid to do what you believe in."
What's more, absent the postseason pressure and with some time and space to reflect, James even says he misses the negativity that followed him from arena to arena during the 2010-2011 season.
James even claims to miss the booing that usually trails him. "I miss it right now with the lockout, feeding off the opposing crowd and them booing you – in a good way. Some of 'em, they boo you because they don't like you personally – but they don't know you personally. They haven't had the opportunity to sit next to you. If they did, they might have a totally different idea about you."
Just to recap: Five months ago, James encouraged his haters to enjoy their pointless lives because he wasn't going to change. In November, James misses their criticism, realizes those critical of him aren't doing so blindly, and says that he's sorry if people were hurt by his actions. He refuses to directly express regret, but all the ingredients are there. This isn't a total personality transplant, but it's definitely a makeover.
It's always been said that absence makes the hard grow fonder. Who would have guessed that phrase applied to superstars and their haters too?