Posted by Ben Golliver.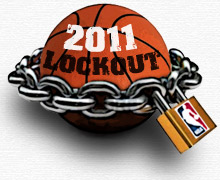 Someone finally picked up the phone.
After multiple days spent wondering which side would make the first move to reopen ongoing labor negotiations,
Yahoo Sports reports
that the NBA and its players have reportedly commenced communicating again for the first time in more than a week.
NBA and players resumed talks on Tuesday to try and end the lockout before the cancellation of Christmas games, two sources told Y! Sports. Talks were expected to continue today, sources said, and one league source tells Y!: "We should know more by later this evening." Derek Fisher isn't a part of the talks now, sources say.
Ken Berger of CBSSports.com has
confirmed the talks
.
Newsday reported
that NBA spokesperson Tim Frank would not confirm or deny that talks were taking place, stating only that the league "remains in favor of a negotiated resolution."
The New York Times reported
that a 66-game regular season schedule, with games beginning on Christmas, is still feasible.
The last talks between the two sides occurred on Nov. 11, when the NBA submitted a proposal to the players that would have allowed for a 72-game season. Since then, talks stalled completely after the players responded to the proposal by
disbanding the National Basketball Players Association
and filed an antitrust lawsuit against the league. As the NBPA no longer exists, talks between representatives of the NBA and its players are now an antitrust lawsuit settlement discussion rather than collective bargaining negotiations.
As recently as on Monday
, players attorney David Boies said that calling the NBA would be a "waste of time" because he felt the league has "no interest in talking," statements the NBA immediately disputed through a spokesperson.
But Berger
reported on Tuesday
that Jim Quinn, a deal-maker with ties to both NBA commissioner David Stern and the league, had offered to help get the dialogue going.
Also on Tuesday
, former NBPA executive director Billy Hunter said that a judge could appoint a mediator to oversee negotiations as early as next week.
Salvaging the NBA's showcase Christmas Day games would likely require a deal to be agreed in principle by Friday, as the NBA has said it needs a full month of preparation time to launch a season. On Nov. 15, the NBA
officially cancelled all games
through Dec. 15.