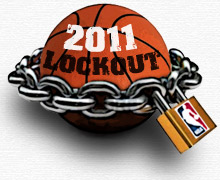 Posted by Royce Young
A lot of people have had a hard time believing that an NBA season could truly be lost over things so minor as mid-level exceptions and the luxury tax. I think you can add David Stern to that group of people.
According to ESPN.com
, Stern has been privately calling owners to "gauge willingness to making full mid-level exception open to all teams." That certainly does sound like earth-shattering stuff, but considering that this is exactly the type of thing these labor talks are stalled on, that could potentially be huge.
The league's most recent (public) offer included a "mini mid-level" for teams over the tax limit starting at $3 million per season with a max term of three years. The agreement was that the full mid-level would be available to all teams over the cap, but under the tax threshold, with a starting salary of $5 million and alternating terms of three and four years.
Seems very minor, but these are the types of things the players have decided to make a stand on. And if the league will start to concede some of these system issues, the path to a deal could finally start to clear again.