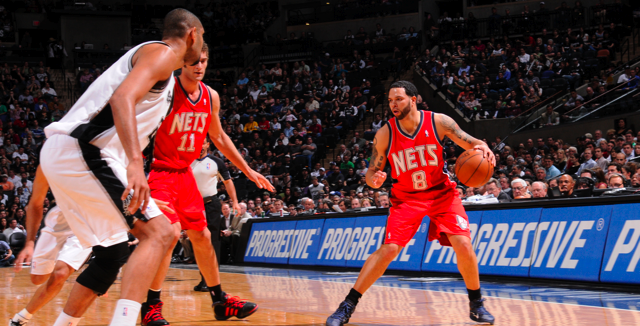 By Matt Moore
Update:
In a typical sign of how flimsy these European deals are, Sportando
reports that the deal with Lopez has fallen through
, and it's now
Lamar Odom
who has agreed to a deal with Besiktas. We'll wait to see if this falls through as well.
-------------
After whiffing on
Kobe Bryant
and swinging out on
Kevin Love
, it looks like Besiktas has its next NBA star to go with
Deron Williams
.
Sportando reports
that
Brook Lopez
will head to Turkey to join Williams for the duration of the NBA Lockout, via Kartal Basket.
That makes two
Nets
on Besiktas, and could help with developing chemistry between Lopez and Williams. Which, if the entire season is lost, won't be much help since Williams may bolt in free agency, and the Nets could jettison Lopez in restricted free agency. But it still makes for a notable teammate for Williams this season in Istanbul, and more time with Williams will help Lopez regardless of where he ends up. Playing with a point guard of his caliber will do wonders for him.
Meanwhile, Williams hasn't been suffering as of late,
scoring 50 points
, shooting 17-23 from the field. Not a bad day's work.
Lopez struggled last season under Avery Johnson, and his rebounding numbers have become an area of concern for his development. But he's still one of the better low-post and high pick-and-roll players in the league and should help Besiktas this season.