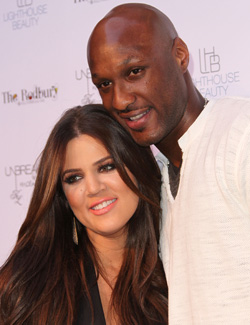 Posted by Royce Young
A team combining the talents of
Deron Williams
and
Lamar Odom
would definitely be a fun one to watch. Too bad you'd have to move to Turkey in order to see it.
According to ESPN.com
, but first reported by Turkish outlet NTV Spor, Odom has signed with Besiktas, which of course is the team Williams is currently with in Turkey. Odom's deal includes an NBA opt-out, and he should be in Turkey as early as next week, provided a new collective bargaining agreement isn't struck before then.
There were rumblings this week that Besiktas had made Odom an offer
and were in discussions. Now, it appears he's accepted it.
According to the report, Odom will earn more than $2 million if he spends the rest of the seaso with Besiktas. Final details aren't known yet though.
Besiktas has been targeting a number of NBA players to team with Williams. Names that have been reported as having interest were
Brook Lopez
,
Kevin Love
, Nene,
Carlos Boozer
,
Luol Deng
and
Marcin Gortat
. And that's just recently. Besiktas flirted with
Kobe Bryant
,
Kevin Durant
,
Zach Randolph
,
Tyson Chandler
,
Andrew Bynum
and
Chris Kaman
at different points of the year since the lockout started.
Odom, who is 32, is set to earn $17 million over the next two years with the
Lakers
. And that doesn't include what he makes from being a reality TV star, of course. Important note from the ESPN report: "Despite the fact that his wife, Khloe Kardashian, has Armenian roots, Odom's reality show with Kardashian airs in Turkey and is said to be popular there." Phew, am I right?
There certainly hasn't been quite the exodus to Europe most thought would happen when the lockout started, but if anyone is taking the most advantage, it's Besiktas. Williams didn't just sign, but is playing and playing well for the team and adding Odom really cranks the team's profile a bit. Not to mention their ability.