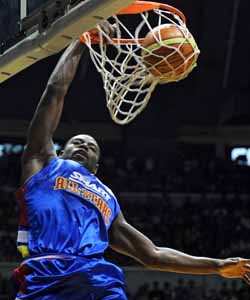 By Matt Moore
Tyreke Evans
had been slow to commit to an overseas team. He's been recovering from multiple injuries which put a damper on his sophomore season, and playing in a variety of exhibitions. But he's gone ahead and committed to a team and will play in Europe for the duration of the lockout. From Sportando:
Virtus Roma agreed to terms with Tyreke Evans for the season 2011-12 with an NBA out to exercise by the player when lockout ends. The contract, as announced by Acea Roma, will be signed in the night.
via
Virtus Roma officially announces Tyreke Evans | Serie A | Italy | Sportando
.
The Italian league Virtus Roma is in, from what I understand, featues a mid-level collection of talent so it should provide enough competition to keep Evans honest while allowing him to work on different facets of his game, though they do not compete in Euroleague. Evans still struggles with finding a traditional position to play, as he's too much of a scorer to play point guard, despite his handle and size advantage, and yet has too much ability to be limited to a shooting guard. His time with Virtus Roma, who famously pursued
Kobe Bryant
this summer, should allow Evans to work on all areas of his game.
The timing of the deal, along with that of
Lamar Odom
's committment to Besiktas, reveals the confidence players and agents have that the NBA talks will reach a conclusion this weekend.