Posted by Ben Golliver.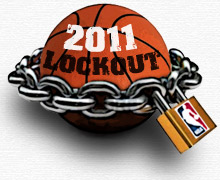 Representatives of the NBA and its players met for more than 15 hours on Friday in New York City to reopen face-to-face labor negotiations after the National Basketball Players Association disbanded to file file an antitrust lawsuit against the league last week. Ken Berger of CBSSports.com reports that a "tentative agreement reached, according to one of the negotiators."
Talks began at noon Friday and ran past 3 a.m. Saturday morning.
The two sides are reportedly aiming to hammer out an agreement that would allow the NBPA to salvage a 66-game regular season that would begin on Christmas Day. It is assumed that the NBA needs a roughly 1-month lead time to get a new season up and running, and Friday was exactly one month prior to Christmas.
Ken Berger of CBSSports.com reported
that, in addition to former NBPA executive director Billy Hunter, former NBPA president
Derek Fisher
and former NBPA board member
Maurice Evans
, the players were led into the negotiations by attorney Ron Klempner and economist Kevin Murphy. The league was represented by NBA commissioner David Stern, deputy commissioner Adam Silver, San Antonio
Spurs
owner Peter Holt and NBA general counsel Rick Buchanan. NBPA attorney Jeffrey Kessler, who
recently said
that Stern treated NBA players "like plantation workers," was not present, although
Yahoo reported
he did participate via conference call.
The two sides reportedly exchanged "back-channel" communication on Tuesday and Wednesday for the first time since Nov. 10, when the NBA made its latest formal proposal to the players, which was rejected, as the players opted to file suit instead.
Saturday is the 159th day of the ongoing NBA lockout.
This post will update with more information.