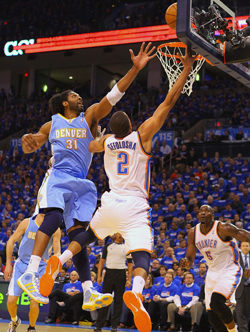 By Matt Moore
We've already told you that Nene is the top free agent in the market. But the thing is, it's a weak market. The best players are in restricted free agency and therefore are difficult to acquire. The unrestricted market is full of players with huge limitations or age and injury concerns. As such, you'd expect spending to be limited. After all, teams just got done holding a five-month lockout based on saying that spending to much on players is the problem.
Nope! Back to the market with their pockets full of change they go!
First, from the New York Post:
The players the Nets likely will pursue have been out there: Nene, Tayshaun Prince, Jamal Crawford. Then there is always the sign-and-trade route, which seems more feasible again as the new deal apparently will allow for immediate sign-and-trades like in the past.
via
Nets ready to get to work on Williams, 'going home soon'
.
OK, well, sure, the Nets want to sign him. The Nets are always looking to overpay for a free agent. See: Outlaw, Travis. But surely there's not some sort of huge buyer's market for him, right? Nene is excellent at what he does, but he's not a star. Teams aren't goin to go gaga... oh. From the Houston Chronicle:
The Rockets have some hard decisions to make. They're going all out for free-agent center Nene. He's 29 years old and coming off a season in which he averaged 14.5 points and 7.0 rebounds per game. Nene is 6-11, 250 pounds, and Morey believes putting him in a lineup with Kyle Lowry and Kevin Martin would give the Rockets three to build around.
via
Rockets will target Nene in free agency, and if they don't get him, will consider a full-blown reconstruction. | SportsJustice | a Chron.com blog
.
Then you have the
Nuggets
, who have a world of cap space and every intention of re-signing the Brazillian center. If this winds up being an arms race, they have a good chance as anyone, given Nene's comfort level there. Then there's the possibility Nene could forgo the money and instead opt to chase a ring, putting the
Knicks
and
Heat
on the radar. Either way, Nene's goin to be the most sought-after player on December 9th, and there's a pretty good possibility that after a summer talking about controlling costs, a team is going to dramatically over-commit in pursuit of Nene.