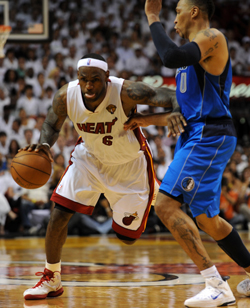 Posted by Royce Young
No games, no money. It's a pretty simple formula. So it shouldn't come as any surprise that with the NBA out of business for the past couple months, merchandise and jersey sales slipped pretty substantially.
Via the New York Post
:
NBA threads, like the Miami Heat's LeBron James' — last season's highest-selling jersey — are down 38 percent.

Most online retailers are offering 15 percent to 20 percent discounts, in addition to peddling old-school or throwback jerseys at half-price to entice visitors.

"Expect FootLocker, Champs and others to follow suit," said an insider. "It has nothing to do with the holiday, either. Retailers understand that after the lockout, the price tag must be cut."

Total NBA product sales last season were close to $3 billion. With the lockout, analysts expect this year's sales number to be closer to $1 billion, citing sneakers as the sport's lone bright spot.
Adidas, who is the league's official jersey merchandiser, had something like $350 million in sales last season.
Faced with the potential to lose pretty much all of that if a season were lost, you can bet that they're happy it's just 38 percent at this point. Sales are way down, but it could be worse, I suppose.