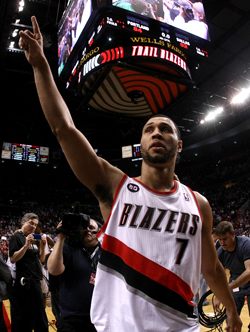 Posted by Royce Young
There's been a whole lot of talk about the amnesty clause in the new collective bargaining agreement. Mainly a lot of talk about who the clause would be used on.
Everyone has their lists going team-by-team looking at what amnesty cuts make the most sense. It's fun to fantasize about what players could get axed, where they could go and what it could mean for each team. (A refresher: The amnesty clause allows each team to make one cut and not have the player's salary count against the cap. They do have to pay him still.)
But it sounds like the amnesty might not get quite the workout that some thought it would originally.
According to the New York Times
, just a couple teams could be in the market of exercising it.
"I don't think there will be very many at all [who will use it]," one team executive told the Times.
That's just right away though. Most of the league will keep the amnesty in their back pocket and hold on to it for a future screw up, er, future unfavorable contract. The executive told the Times that he thinks only three to six teams will use it in 2011-12 because most have good salary cap and luxury tax situations.
Of the teams most likely to use it right away are the Blazers and
Magic
with
Brandon Roy
and
Gilbert Arenas
likely getting waived. Both players have big contracts and by cutting them, both the Blazers and Magic could make a significant move to get under the luxury tax line.
Brandon Roy getting cut could be an interesting situation though. Because even though his rickety knees, he's still a really good basketball player that's only 27 years old. Remember that Portland comeback against the Mavs spurned by Roy? That stuff is still in him.
So of the teams that could target him? The
Timberwolves
are one,
according to ESPN.com
.
"Blazer coaches have been advised that using provision to waive Roy is strong possibility. AND ... new Minnesota head coach Rick Adelman, I'm told, would have level of interest in signing Roy after knee fears led to Wolves' Roy/Randy Foye 2006 draft swap."
The Star Tribune added this in regards to Roy's uncertain health:
"They at least will have an inside, informed opinion: New assistant coach Bill Bayno has seen both the old and the current Brandon Roy. Bayno, just hired away from the Blazers, has seen Roy play every night since Roy came into the league."
The Wolves, as bad as they've been, have an odd amount of depth, so they could take a chance on Roy to see if he could regain his past form. And it fits the David Kahn model of acquiring talent despite there not being really a rhyme or reason to it. Just get players; don't think about where they might fit.
Maybe a new location would be good for Roy. His situation in Portland has been contentious for a while now and with the team's frustrating injury history, a fresh start could be a really good thing for both sides.