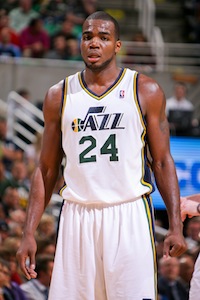 By Matt Moore
The Indiana
Pacers
are coming off of fascinating season. They started off hot as fire, then cratered a bit. Jim O'Brien was fired, and then interim coach Frank Vogel took them to the playoffs, where they had as competitive a five-game series against the
Bulls
as a five-game series can be. So they're looking to upgrade the team and make a run, right now. They brought in
George Hill
through trade, and now are looking for more additions.
The Indianapolis Star mentons a pretty intriguing option through trade:
Paul Millsap
.
The Pacers talked to the Utah Jazz about forward Paul Milsap prior to the draft. Expect them to make a phone call to the Jazz again. The 26-year-old Milsap, a Pacer killer in the past, averaged a career-high 17 points last season.
via
Mike Wells: A look at players the Pacers might pursue | The Indianapolis Star | indystar.com
.
Millsap would make for the power forward the Pacers are looking for in free agency through
David West
or Nene. If they were to trade
Roy Hibbert
as part of the package, thiy could sign Nene, then add Millsap making one of the better front courts in the Eastern Conference, along with
Danny Granger
. The Pacers are clearly looking to enter the conference race right now, instead of waiting to see their young pieces develop.
The question is, what's the objective? Can the Pacers win a title with Danny Granger as their best player? They've put together an interesting, fast, young team that can defend at one end, hit from the perimeter, and get out in transition. But do they have a team that could get hot and go on an unpredictable run to the title? OK, it wouldn't be unpredictable if we could answer that. But the point is that the Pacers are loading up for what is likely a team whose ceiling is the second round.
Have to try something, I guess. The Pacers surprised people last season. If they spend wisely, and that's a big if, they could do the same this year with heightened expectations.