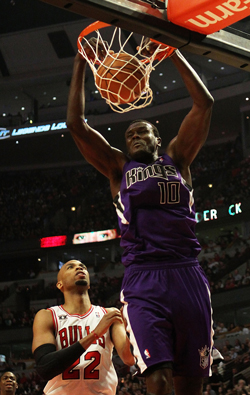 Posted by Royce Young
Everybody's favorite game is back now that the lockout is (sort of) over: Fill out the
Heat
's roster! Last summer, it was a mad dash for Pat Riley to fit in pieces around
LeBron James
,
Chris Bosh
and
Dwyane Wade
. He did it by using his mid-level exception on
Mike Miller
and then piled in veteran minimum contracts to go with a few rookie deals.
It worked, and it didn't work. The Heat reached The Finals, but they definitely were missing an inside presence.
Joel Anthony
served his position relatively well, but the big man by committee structure wasn't all that successful.
Juwan Howard
, Anthony,
Jamaal Magloire
,
Erick Dampier
,
Dexter Pittman
-- I wouldn't say any of those were really a hit.
So here they are again with free agency coming and they're looking at the big man market. There's
Tyson Chandler
, but they have no shot at him. Same goes for Nene and
Marc Gasol
(unless there's a sign-and-trade, which there won't be.
Where could they turn? Here's an interesting name:
Samuel Dalembert
.
Via ESPN.com
:
Don't count out the Miami Heat. Dalembert lives in South Florida, wants a chance to win a title and is Pat Riley's No. 1 target. If no team offers him significantly more than the mid-level, Dalembert could be Miami-bound.
Also, consider this from FoxSports.com
:
Dalembert wouldn't say he would agree to [the mid-level exception]. But he did say "what is best for you might not be for the most money." And he definitely likes the Heat.

"I'm keeping all my options open, but Miami could be a good fit for me," Dalembert said.

Why is that?

"If you look at the playoffs with Dallas, you saw what Tyson Chandler did," Dalembert said, referring to the 7-foot-1 center who helped the Mavs beat the Heat in six games for the title last June. "He was basically a key ingredient for them to win a championship. And Miami didn't have somebody like that. Somebody able to stop (foes from) getting second shots and somebody able to rebound and finish. I could fill that role and be an asset for that team."
A paycut is the only way the Heat can get to Dalembert and it would have to be a big one. He earned $13.4 million last season and that was while not playing a whole lot in Sacramento. He earned it because he emerged as a major defensive presence in Philadelphia but his production has tailed off some due to injuries, and possibly age (he's 30).
It makes a whole lot of sense in every way, except for the money. Dalembert's Haitian-born, which isn't far from South Beach. He has relatives in the area. He lives in nearby Boca Raton. Dalembert's potentially "missing piece" material for a team that desperately needs a dominant rebounder and shot blocker. Which in previous days, Dalembert was exactly that.
As Tom Haberstroh of Heat index notes
, despite a disappointing 2010-11, Dalembert still grabbed 19.3 percent of his team's rebounds, which is far above his positional average.
The Heat could have competition though. The
Knicks
need big man help desperately and are more in a position to pay Dalembert better money. Not a whole lot better, but better regardless.
And the interest is said to be mutual there as well
.
This free agent market doesn't have the big name, splash type players in it, but it does have potential championship pieces. Dalembert being one of them, and he's going to draw some big attention.