Posted by Ben Golliver.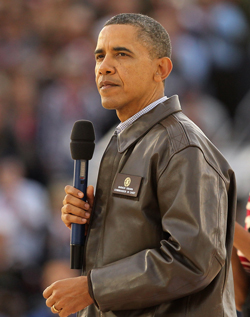 Our President's long, national nightmare is over: the NBA has salvaged the 2011-2012 regular season.
WPXI.com reports
that United States President Barack Obama approves of the NBA's (tentative) new collective bargaining agreement.
After playing basketball at Fort McNair on Saturday, President Barack Obama seemed to approve the tentative deal reached earlier in the day to end the NBA lockout.

When asked about the potential agreement, Obama gave a thumbs-up and said, "Good deal!"
There's probably some joke to be made here about how the NBA labor negotiators turned out to be more effective than Congress, but who has the time or energy these days to pretend to care about politics or the world around us? Maybe Jay Leno, but that's about it.
Obama's exclamatory excitement is no surprise.
Obama has been vocal about his desire for NBA basketball, especially as the lockout wore on over the last few months.
In early October, Obama said the lockout left him
"heartbroken"
; a few weeks later, Obama said he was
"concerned"
that the NBA would lose the entire 2011-2012 season. By November, Obama
told reporters
that the lockout was "killing me" but said that he "[wasn't] going to intercede."
Then, less than a week later, Obama
announced the Obama Classic
, a presidential reelection fundraising basketball game that was going to feature NBA stars like
Carmelo Anthony
,
Chris Bosh
and
Kevin Durant
. He even
printed up (and is selling)
custom basketball jerseys.
The event, scheduled for Dec. 12, will now conflict with NBA training camps and the free agency period, slated to begin on Dec. 9.
Hat tip: ProBasketballTalk