Posted by Ben Golliver.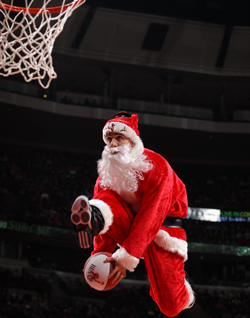 The 2011-2012 NBA schedule is expected to begin on Christmas. After that, it's pretty much anybody's guess for now.
The New York Times reported
Monday that NBA owners and players will not complete the vote to formally approve the "tentative" collective bargaining agreement that was
reached early Saturday morning
until "probably next week."
In turn, the
Times
also reported that the NBA's full 2011-2012 schedule will not be released until "maybe next week."
Some details of the schedule have emerged already
.
The NBA announced on Sunday that the league will play a 66-game season, beginning on Dec. 25, 2011 and running through April 26, 2012. The Christmas Day slate is expected to include a triple-header: the Boston
Celtics
will visit the New York
Knicks
, the Miami
Heat
will visit the Dallas
Mavericks
, and the Chicago
Bulls
will visit the LOs Angeles
Lakers
.
Each NBA team will play 48 games in conference and 18 games out of conference, meaning that each team will not visit every opposing team like usual.
At least one, and up to three, sets of back-to-back-to-back games, usually avoided during a standard 82-game schedule, will be played by every team.
Each NBA team will reportedly also
play just two preseason games
, a home-and-home series against a single opponent.