Posted by Ben Golliver.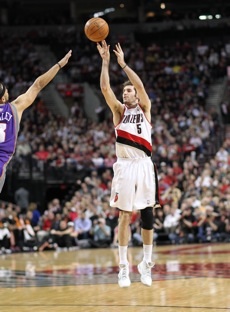 Least shocking news of the day: It took less than 72 hours since the NBA's "tentative" labor deal was struck for perpetually petulant guard
Rudy Fernandez
to find his name in reports stating his unhappiness with the league and his preference for continuing to play in his homeland of Spain.
Spanish website ElConfidencial.com reported
that Fernandez planned to travel to Dallas next week to meet with the
Mavericks
in an effort to arrange his immediate departure from the NBA's defending champions, potentially by buying out of his contract.
HoopsHype.com, quoting "a reliable source,"
quickly reported
that the original report was erroneous.
"Rudy Fernandez's plan is to join the Mavericks next week and play with them this year," the source said. "Asking for a buyout is not an option at this moment at all. He wants to play with Dallas and do a good job there."

"Plan A is for him to play with Dallas," the source said. "I wouldn't even call this plan B, more like plan C, but there's a small chance the Mavericks could be asked to accept a buyout or asked to use the amnesty clause on Rudy if things are not looking good for him there, if there's not a decent role for him there… Now that's when the option of leaving Dallas would be considered. But there's nothing true about that report right now."
Fernandez was traded by the Portland
Trail Blazers
to the Mavericks on the night of the 2011 NBA Draft and has one year remaining on his rookie scale contract. Fernandez butted heads often with Blazers coach Nate McMillan as he desired a more consistent, meaningful role in Portland's rotation. Prior to the 2010-2011 season, he threatened not to show up to camp in an effort to get himself traded before relenting. He averaged 8.6 points and 2.2 rebounds per game for the Blazers last season and was virtually invisible during Portland's first round playoff series, shooting just 4-for-18 over six games.
Back in August
, Fernandez inked a multi-year contract with Spanish powerhouse Real Madrid, where he played during the lockout. He is averaging 16.0 points, 3.4 rebounds and 2.5 assists per game for Real Madrid in Spanish league play,
according to DraftExpress.com
. Fernandez, 26, won a gold medal for Spain at the 2011 EuroBasket tournament; his heart is clearly in Spain and it's possible that his long-term financial best interests are there, too.
This goes without saying, but the Mavericks will never, ever, ever use their amnesty clause on Fernandez, who is owed a paltry $2.1 million in 2011-2012. The Amnesty Clause can be used on any player currently on the roster at any time during the recently negotiated Collective Bargaining Agreement. It's an extremely valuable cap management tool that can help mitigate against disastrous injury or overpaying for unproductive play. With
Brendan Haywood
on the books for more than $45 million guaranteed through 2015-2016, there's no way Dallas owner Mark Cuban burns his Amnesty card just to make Fernandez happy. It's a pipe dream.
As for agreeing to release Fernandez, the Mavericks have no real motivation for doing so. He's an affordable, serviceable -- if somewhat emotionally erratic and unreliable -- reserve guard who adds depth to their backcourt. Dallas might need to let J.J. Barea and/or
DeShawn Stevenson
go during free agency, meaning there is the potential for Fernandez to get some real run. Showing up and honoring his contract is the right thing to do, even if it might not be Fernandez's first choice. No matter what, he's free to return to Real Madrid in July 2012.