Posted by Ben Golliver.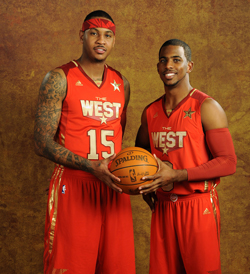 That didn't take long.
Less than a week after NBA owners and players tentatively agreed to terms on a new Collective Bargaining Agreement that was designed by the league to improve competitive balance, a report has surfaced that a small-market perennial All-Star wants to play for a star-studded, marquee big-market franchise.
ESPN.com reports
that New Orleans
Hornets
point guard
Chris Paul
is intent on signing with the New York
Knicks
.
Paul's first choice by far is to team up with the Knicks' Anthony and Amare Stoudemire to form yet another Eastern Conference Big 3, according to sources close to the situation.

The Knicks should have enough room beneath the salary cap next summer to offer Paul, who can become a free agent after this season, a contract starting around $13.5 million, just below the maximum. And while New Orleans could offer him more money, Paul, like his buddies James and Wade did a year ago, will gladly take a little less to join the team of his choice.

Paul's current team, the poor, league-owned New Orleans Hornets, will of course do everything they can to avoid losing Paul for nothing. That means trying to trade him before or during this truncated 66-game season, according to sources.
Paul and the Knicks have been linked before.
Last month, a report surfaced
that Anthony wanted Paul in New York.
In September, a report surfaced
that former Knicks GM Isiah Thomas is close with Paul and was "working behind the scenes" to convince Paul to sign with the Knicks.
While this is not the first report of mutual interest between Paul and the Knicks, it's certainly the most detail-laden. The Knicks have obviously planned to make a big splash in the summer of 2012 by stocking up on contracts that expire this season. They can make a compelling financial case, even if it's not the best possible offer available to Paul.
As with Anthony, if Paul's heart is set on New York he certainly has the leverage to get there. It's just a matter of when and how. Whether Paul gets there quickly via a direct trade, slowly by waiting to sign with the Knicks in the summer, or by taking a circuitous path, like the one traveled by New Jersey
Nets
point guard
Deron Williams
, who was traded without warning by the Utah
Jazz
and
recently said
he's keeping his options open for this summer, remains to be seen. But if Paul has the will expressed in this report, there's a way for him to land in New York.
The question, as CBSSports.com Ken Berger points on in the following video, is how much of a financial hit joining the Knicks would mean for Paul and whether that hit becomes so large as to be prohibitive. Would losing out, potentially, on tens of millions of dollars still make the move worth it?
"I'm sure Chris Paul and the Knicks are first on each other's lists, but although extend-and-trades and sign-and-trades are still allowed in this agreement, there are a lot of restrictions," Berger explains. "You can't necessarily do what Carmelo did in the extend-and-trade to get to the team you want and still get max money. Chris Paul could only get one year added to his two left. And with sign-and-trades, you can't do what LeBron did to get to Miami and get max money, you have to take a 4-year deal and less than max raises."
The Knicks have staggered their superstar acquisitions more than the Miami
Heat
did in landing
LeBron James
,
Dwyane Wade
and
Chris Bosh
during the summer of 2010, but they're following essentially the same blueprint and strategy. Even though Paul's biggest salary payday would come by staying with the Hornets, we've learned it's not always about maximum NBA salary for elite basketball players. Paul, like Anthony, is a featured Jordan Brand sponsored athlete and would surely have access to new, additional off-court revenue streams playing for a championship-contending Knicks squad. But could that make up tens of millions of dollars in salary difference?
This report didn't take long to surface, but it will feel like forever until the script plays out, especially for Hornets fans.