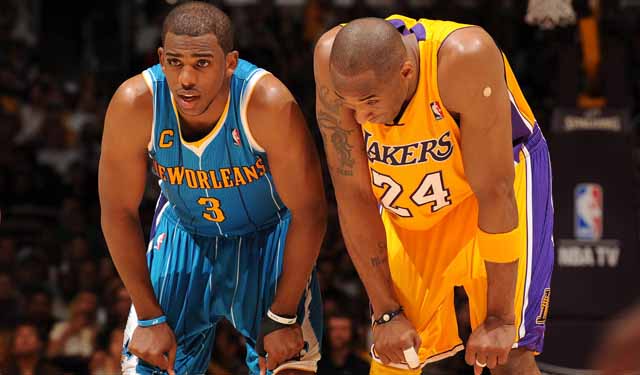 By Matt Moore
The Los Angeles
Lakers
have a championship core. This same group of players were responsible for two out of the past three titles, and even without the services of Phil Jackson, there's every reason to believe that this team as-is can win another title with
Kobe Bryant
,
Pau Gasol
, and
Andrew Bynum
as its engine. But what comes after? The Lakers have begun looking to the future. They don't just want to stay competitive towards the end of Kobe Bryant's career, they want to transition seamlessly into their next phase of dominance.
And that means acquiring one of the big free agents in 2012,
Dwight Howard
or
Chris Paul
. Except they don't want one of those two. They reportedly want both.
From Mark Heisler, who covered the Lakers as a beat writer before taking up with SheridanHoops.com:
When the NBA couldn't get a full ban on sign-and-trades, it left his Lakers in position to pull off a coup they're dreaming of, which would make signing LeBron James pale by comparison.

If Dwight Howard and Chris Paul wind up on the market — a safe assumption as far as I'm concerned — the Lakers could offer Andrew Bynum for Dwight and Pau Gasol for CP3, or vice versa.

Nothing says that they will be enough to land either player, but it should put the Lakers in the running for both.

Oh, and Dwight likes the Lakers. Asked which All-Star he would most like to play with last season, he answered "Kobe Bryant."
via
Lakers will look to acquire Dwight Howard and Chris Paul
.
Just to review. We just had a five-month lockout because teams were upset about large market teams acquiring multiple stars, scavenging small markets and leaving them with nothing. And the Los Angeles Lakers and their 17 professional basketball championships are aiming for both Chris Paul and Dwight Howard. Glad we lost those 16 games over this.
There are a large numbrer of reasons why this is unlikely to happen. For starters, Chris Paul reportedly has New York as his first choice. Secondly, the biggest advantage the Lakers have is the assets to trade for Paul which the
Knicks
don't have. But the new CBA does have one new stipulation to prevent such dealings, the extend-and-trade adjustments. While sign-and-trade restrictions don't take effect until 2013, early reports indicate that extend-and-trade restrictions are immediate. The changes say that the same setup that
Carmelo Anthony
used to get his way to New York and get the extra year on his deal via Bird Rights is different.
The changes to the CBA suggest that teams that extend-and-trade a player can only extend him for three, versus the maximum four-year extension or five year re-sign he gets for staying with the home team. The only way around that is a six-month waiting period. The
Hornets
could re-sign Paul to the full Bird rights extension and then trade him, but they would have to wait six months. But a more likely scenario would see the following scenario: the Lakers can trade for Paul in the final year of his contract and then extend him, but that must be done after six months. Which means, they have to acquire him six months prior to his free agency beginning on July 1. Which means they have to acquire him by... January 1. With a season starting on the 25th. Not exactly a lot of time to pull that off.
All of these elements are in place for Dwight Howard, and
Deron Williams
(should the
Nets
just give up for some reason) as well.
The most likely scenario involves Paul entering free agency, and then signing a four year contract with Los Angeles or New York. But if the Lakers were to acquire Paul prior to free agency, it would give them an extra year to offer Paul, and it's hard to imagine him passing that up. Max contracts with bird-rights are five years, as opposed to the four-year counting option-year of an extension.
But if the Lakers want to acquire either player (or both, if we like fantasies), then they're going to need to trade some of that core. Specifically, Jim Buss would have to give up on his pet project, Andrew Bynum.
Lamar Odom
and pieces might be able to acquire Chris Paul, but there's no sense in bringing in Howard and pairing him with Bynum. Either playing power forward would be clunky and awkward. Where this leaves Pau Gasol is yet to be seen.
Hornets fans have to love all this. LOVE IT.