Posted by Royce Young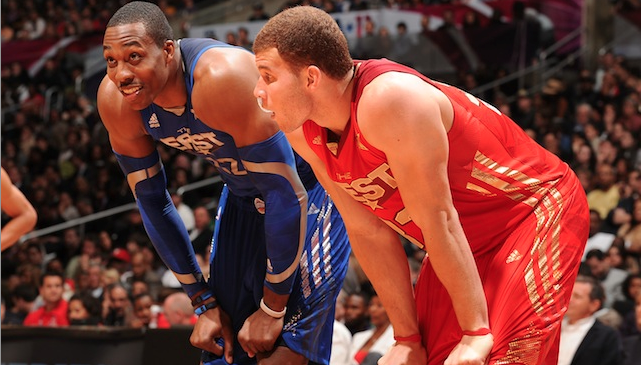 Ever wonder what it would look like for a team to score 100 points, all coming on dunks? That could be your 2012-13 Los Angeles
Clippers
if they get what they want.
According to ESPN.com
, the Clips are in hot pursuit of Howard and will do anything to get him, except trade
Blake Griffin
:
"While the Clippers like Chris Paul, sources say they like Howard even more. The Clippers have made it clear to executives throughout the league that they will do whatever it takes -- outside of trading Blake Griffin -- to get Howard, who will become a free agent at the same time as Paul, either this season or next summer. So they will not move the players they'll try to use to get Howard to New Orleans for Paul."
A frontcourt of
Dwight Howard
and Blake Griffin? Salivate with me, NBA junkies.
"Big market team really, really wants Dwight Howard!" really shouldn't be big news. It's kind of obvious that there will be a lot of teams interested in trying to claim 2012's top free agent prize.
But, what
is
interesting, is the fact that the Clips would be willing to move anyone off the rosters sans Griffin to get Howard. What do they have that could entice the
Magic
? Because "anything but Blake" would include
Eric Gordon
. And Eric Gordon's a very, very good player. Averaged 20 points a game last season and that was with him injured. I'm a firm believer that Gordon could be a 25-point-a-game player.
So Gordon, plus
DeAndre Jordan
(a blossoming defensive big man), a first-round pick and someone for cap relief like
Chris Kaman
(who has a $12.7 million expiring deal) or
Mo Williams
. Not a terrible deal, right? Probably as good as what the Magic could get from anyone else.
My question is, is this smart for the Clips? Obviously Dwight Howard and Blake Griffin teaming inside would be insane, but the Clippers have something working right now with a duo of Gordon and Griffin. That's a solid young core, plus Jordan who is becoming a really nice compliment alongside Griffin. Add a dynamic point guard -- and who knows, maybe that's
Eric Bledsoe
-- and a good wing scorer and you've got a potential playoff team.
If you give it all up to get Howard, you've got maybe the best frontcourt in NBA history, but you're also missing players to pass them the ball or make a shot on a kickout.
It might not make the most sense in the world in terms of structuring a basketball team, but good lord, what a frontcourt. I'm pretty sure that tandem would make YouTube explode.