Posted by Ben Golliver.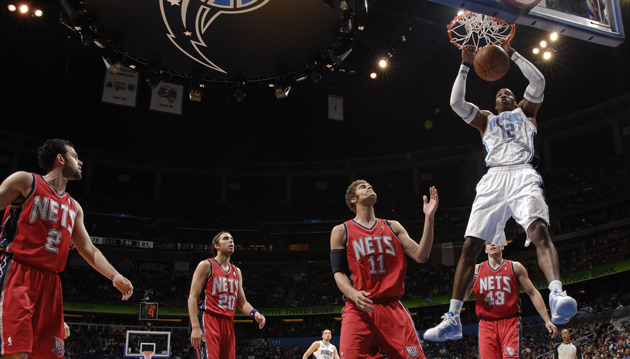 The feeding frenzy for Superman is now officially in full effect.
ESPN.com reports
that the New Jersey
Nets
, having traded the house for All-Star point guard
Deron Williams
before last season's trade deadline, are preparing to make another bold move in an effort to acquire Orlando
Magic
center All-Star
Dwight Howard
.
The New Jersey Nets are prepared to offer a trade package featuring Brook Lopez and two future first-round picks to acquire Dwight Howard before the Orlando Magic center becomes a free agent in July 2012, according to sources close to the situation.

Sources told ESPN.com this week that, to sweeten the proposal, New Jersey would likewise offer to take back the contract of Magic forward Hedo Turkoglu, who has three seasons left on his contract worth just under $35 million.
The Nets have loads of cap space and will have even more if they proceed with waiving forward
Travis Outlaw
via the amnesty clause, as is widely expected. Their interest in Howard is obvious. He is by far the best center in the NBA, he is incredibly durable, he is a force on both ends, he is entering the prime of his career and he is a marketer's dream. His financial impact on a team like the Nets would be enormous. He averaged 22.9 points, 14.1 rebounds, 2.4 blocks, 1.4 assists, 1.4 steals and shot 59.3 percent from the field last year. He should have been the league's MVP. He would make an excellent inside force for any point guard, let alone Williams, one of the game's best floor generals.
For the Magic, this is an interesting and not-totally-uncompelling opening offer for Howard, the type of package that hits all three major categories: a quality and proven young piece, major financial relief and draft pick building blocks. A similar trade package saw the Denver
Nuggets
send
Carmelo Anthony
and expensive point guard
Chauncey Billups
to the New York
Knicks
for draft picks, younger players and cash.
The Magic are way over the salary cap and lack the ability to add truly meaningful pieces to a roster that lost in the first round of the Eastern Conference playoffs and lacks a supporting star for Howard. This trade would bring in Lopez to fill the mammoth hole that will be left by Howard's departure, an impossible task, but Lopez, 23, averaged 20.8 points and 6.0 rebounds last season, so it could be worse. One complication: Lopez's deal expires after the 2011-2012 season and he will likely command a fair sum when it comes time for him to make a deal.
Any Howard trade will need to clear out Turkoglu too, as he is Orlando's second most ridiculous contract. The Magic would be set up pretty quickly for a post-Howard rebuilding by getting out of the $34 million guaranteed to Turkoglu through 2013-2014 and waiving guard
Gilbert Arenas
via the amnesty clause. None of the other contracts currently on their books are particularly outrageous and the Magic has no other major salary committments past 2012-2013 other than Turkoglu. The ground-up method is generally considered the best way to bounce back from a departure of a major superstar. This type of deal would get them there.
Still, the price the Magic will be able to command for Howard, assuming they relent in their effort to sign him to a contract extension and agree to pursue trade possibilities, should be significantly greater. That said, this isn't not the worst opening bid.
One thing is absolutely certain: many teams will look to top this reported offer in the coming months. And one major thing is uncertain: How would Howard feel about playing for a team that has gone a combined 104-224 in the last four seasons?