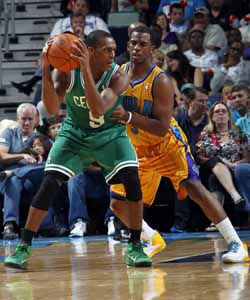 By Matt Moore
And just like that, another swing in the momentum. As rumors of
Rajon Rondo
being traded
from the Boston
Celtics
in their pursuit of acquiring
Chris Paul
hit a fever pitch,
ESPN.com is reporting that Paul will not sign a long-term extension
with the Celtics, which is supposed to shut off any further discussion of a trade.
Except that under the terms of the new CBA, this gets a bit more complicated. If Paul were to agree to an extend-and-trade with the Celtics, he would be limited to just a three-year extension, only two after his option year next year. That's a remarkably short contract for a player battling a knee issue looking for the big pay-off contract. If he were to be traded to Boston, he would have to wait six months to sign the full extension, which is only for four years. Conversely, if Paul were to enter free agency, whatever team he was playing for athe end of the season would have his Bird rights and could re-sign him to a five-year contract, the most he can get. Any other team, like, say, the New York
Knicks
(
since their acquisition of him during the season is unlikely
), would be able to sign him to a four-year deal. In short. signing an extension now makes zero sense.
But at the same time, we have a precedent set, and that precedent does not bode well for the Celtics. When
Carmelo Anthony
launched his covert (OK, it was louder than a C-130) plan to get to New York last year, the
Nets
were interested. And maintained interest. And kept pitching. But early on, reports surfaced that Anthony would not sign an extension with the Nets. They kept trying and trying, but Anthony maintained that the only team he'd sign an extension with was the Knicks. Eventually, that's where he was traded.
Now we have reports saying Paul wants to go to New York, and the Celtics trying to talk him into coming to Boston, including trying to acquire more assets to help a deal along. And now there's a report early on that Paul won't sign an extension there. Boston is, in no way, New Jersey, but the pattern is still alarmingly similar. Might be time for the Celtics to go back to their usual line of "We love Rondo, we'd never trade him," despite all indications to the contrary.