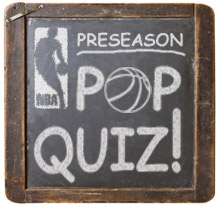 Fall is here, hear the yell, back to school, ring the bell
... Wait, we're almost to winter. What happened? Who cares, there's a season! The NBA season is right around the corner, and NBA training camp starts in just a couple weeks. To get you ready for the season, we've put together some pop quizzes. Pencils ready? We start our
Pop Quizzes
with this question...
What's the value of Chris Paul?
By Matt Moore
Over the next... however long it takes for the question of Chris Paul and where he plays next season to ge answered, there's going to be a common reaction to people regarding trade proposals. It goes something like this.
"What? They can't trade Chris Paul for (X player, X player, Y pick)! That's not nearly as good as Chris Paul!"
And all of these measures miss the point.
Should the New Orleans
Hornets
decide that the battle is lost and it's time to start over by trading Chris Paul, there is nothing they can get back that will be of equal value to him. There is nothing they can get in return that will eventually be better than him. There will be no offer that will result in analysts, fans, and bloggers, including those that work here saying the Hornets won the deal. It is impossible. You never win trading a star. You never come close to winning by trading Chris Paul.
Which is why so many will advocate against trading Paul. But the only reason to make such a deal is if the game is already over. At that point you can't be looking to compete, to make the playoffs, to keep your season ticket holders happy or to keep them at all. You are looking to restart. It's a reset button on the franchise, and it could cost the city of New Orleans its team. But if that's the decision you reach, that means you've explored every option, considered every trade, made every attempt at acquiring a free agent, done all you can. It's over, Paul will be headed to a bigger market, and you simply have to evaluate what you can get.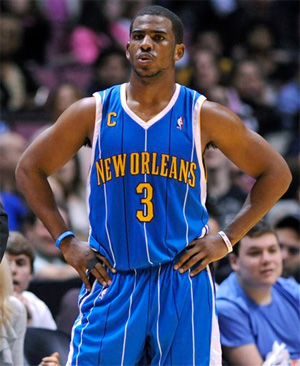 There's a misconception that in a trade, you have to get back equal value to justify it. But that's a little bit absurd. Stick Chris Paul with a series of offensive weapons and you're going to have one of the best scoring machines in the league thanks to his vision, skill, and ability. Stick him on the Milwaukee
Bucks
and you have a great defensive team that's better on offense but still not good because it doesn't matter if Paul is dishing to people who still can't hit the shot. More importantly, getting back
Derrick Rose
doesn't help your franchise much (and no,
Bulls
fans, no one is saying the Bulls would trade the MVP, just roll with me here) if you have no one to help him out. The lesson is that bringing back talent does not equal talent lost. There's a plan to a franchise, or at least there should be, and a decision like this means you start completely over. That's how the NBA works.
That's the hard part, really. It's not figuring out what assets, because you only have so many partners, because no one will trade for a player who doesn't want to play for them. From there it's just details. The odds are very high that most of the players the Hornets would trade Paul for will be gone within three years. It's also highly likely that both the GM and coach who help orchestrate the trade will also be gone. That's how the NBA works.
So if you want to capitalize on this as an opportunity, as damaging as the effects are, you don't try and determine what Chris Paul means to your franchise, because it can't be calculated. You don't try and measure his impact on the team, because you can't. You don't try and formulate how to return even 50 percent of what he provides the Hornets, because there is no such math. You simply try and put yourself in the best position to draft the next Hall of Famer that comes your way, to be able to add talented players around him immediately, and to hope the next time that player doesn't feel like those streets will make him feel brand new or that the big lights will inspire him.
What's the value you look for in trading Chris Paul?
The quickest way to forget you lost him.