Posted by Ben Golliver.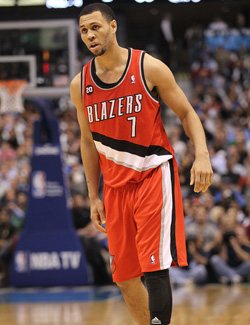 PORTLAND, Ore. -- For now, "The Natural" hangs in limbo.
With
rumors swirling this week
that the Portland
Trail Blazers
are planning to waive guard
Brandon Roy
using the amnesty clause, team president Larry Miller told reporters on Wednesday that the decision has not yet been made, but stopped short of saying that Roy will be in a Blazers uniform when the 2011-2012 regular season begins on Christmas.
"No decision has been made on amnesty as of yet," Miller said. "We are still looking at every possible option that is available to us but we have not made a decision as far as Brandon or anyone at this point."
Roy, 27, is a 3-time NBA All-Star and 2-time All-NBA performer but has dealt with knee injuries since high school. He underwent arthroscopic surgeries on both knees during the 2010-2011 season and played in just 47 games. He is largely credited with leading a resurgent Blazers out of a franchise dark period, serving as the face of the franchise during three straight playoff appearances.
"For anyone who thinks that I'm just standing here saying that and it's not true, they don't know me," Miller said. "Anybody that knows me or has worked with me before, that's had interactions with me before, that's not how I operate. Again, unequivocally no definitive decision has been made about amnestying Brandon or any of our players."
The Blazers, like every NBA club, were allowed to begin contacting player agents on Wednesday morning. Miller noted that the team's acting general manager, Chad Buchanan, placed his first call to Roy's agent.
"The first call that Chad made this morning -- he counted the clock down at 5:59, 6:00 this morning -- his first call was to Brandon's agent to talk about how Brandon is doing [and ask] when we can sit down and have a conversation with Brandon," Miller said. "With everything that Brandon has done for this organization, there's no way we would make a decision like that without having conversations with them, without evaluating where he is and seeing what's going on with him."
Using the amnesty clause on Roy would remove his $15 million 2011-2012 from Portland's cap number and it would take them out of the luxury tax zone. In total, it would remove more than $63 million guaranteed of future salary commitments from their books. Under the terms of the new collective bargaining agreement, Portland could use the amnesty clause prior to the beginning of the 2011-2012 season or prior to any of the three future years left on his deal.
Miller said the Blazers plan to evaluate Roy in-person before making a decision on whether to amnesty him immediately and that the team expects him to show up for training camp, which is scheduled to begin Dec. 9.
"That would make sense, right? Brandon has done a lot for this organization. He's been one of the people who really helped this organization around. So to make a decision like that without looking at every possible factor involved in that decision just wouldn't make sense."
The team said Wednesday that the NBA has not yet informed them of the deadline for making amnesty decisions.
Roy has spent the lockout in his hometown of Seattle working out with other NBA players from the area. Free agent guard
Jamal Crawford
, a close friend, and Sacramento
Kings
rookie guard
Isaiah Thomas
, a fellow University of Washington product, are among the players to vouch for Roy's game and health, even though his statistics tumbled across the board last year.
Roy's agent is painting a positive picture as well according to Miller.
"He said that Brandon is feeling good," Miller said. "He feels like he's able to play and that he is willing to sit down and talk to us so we're going to continue that conversation. We basically have asked the agent to set up a time for Brandon to sit down with us. Hopefully, and I don't know the answer to this, because we haven't been able to talk to Brandon, I'm hoping he will be here when we open the doors tomorrow."
Still, despite all of the gratitude for Roy's services and the obvious logic in delaying the decision, Miller hinted that the financial realities and injury issues are factors the team must look at hard.
"It's not like it's unknown that Brandon had health issues last year," Miller admitted. "Everybody knows that. But, again, what Brandon did for this organization, what he's meant to this community, what he's meant to this team, there would be no way we would make a decision like this without looking at every possible factor involved."
This week, Blazers fans sent hundreds of Twitter messages to team owner Paul Allen campaigning for him to bring back Roy. Miller said those voices would be a part of the team's decision-making process, too.
"We're going to look at every factor involved including the fan factor. For us to say, 'Hey we're just going to do this and not consider how the fans feel about it, how the community feels about it' -- we're going to look at all of that. Our goal is and continues to be to make our team better. To try to get better as a team, to try to win. That's what all of our decisions are going to be based off of."
The most genuine moment came when Miller was asked to assess the overall state of his roster, which also includes a decision on chronically-injured center
Greg Oden
.
"If we have a healthy Greg and a healthy Brandon we've got a great roster," Miller mused. "If there's some issues there then we've got to figure out what we are going to do."
It sounded hopeful and ominous in the same breath.