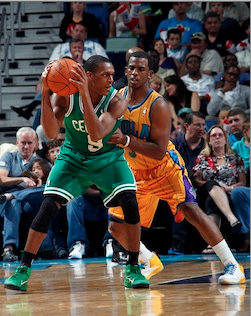 Posted by Royce Young
There's a balance every analyst much find between saying things that get people talking but also saying things that aren't completely ridiculous. Charles Barkley is very good at this. Shaquille O'Neal, who is new at this analyst thing, is working on it. Obviously.
Exhibit A,
via Sports Radio Interviews
, when asked about the
Rajon Rondo
rumors:
"I said to myself a long time ago from sitting here watching…I saw Patrick Ewing get traded. I saw Dominique Wilkins get traded. Everyone is tradeable, you could probably get a lot for Rajon Rondo but he is the heart and soul of the team. I don't think that would be a good idea.

If I was the general manager, I wouldn't do it. [Hosts: You would not do it?] No. [Hosts: Even if it was for Chris Paul?] Chris Paul is not better than Rajon Rondo… Rajon Rondo is the true definition of a point guard, period. He gets everybody involved and he scores when he has to. Chris Paul scores a lot of points, but when was the last time they made it to the playoffs? Thank you very much."
OK, let's dig in to this. First of all Shaq, Chris Paul made it to the playoffs just last season. The year before that, the
Hornets
didn't make it pretty much only because CP3 was hurt. And in last year's playoffs, they pushed the
Lakers
to six games and nearly pulled a major stunner. But I guess you missed that.
And since when is Chris Paul not in the "point guard" definition? It's like people almost inflate Rondo's point guardness because he doesn't score. It's like since he doesn't have the same well-rounded offensive ability of say a CP3 or
Deron Williams
and really has most his value in passing, that people assume that makes him a TRUE point guard, whatever that is. You're telling me Chris Paul isn't a true point guard because he scores too much? What planet am I on right now?
Last season, Paul averaged 15.9 points and 9.8 assists per game. Rondo averaged 10.6 points and 11.2 assists per game. For their careers, Paul is averaging 18.7 points and 9.9 assists per game. Rondo, 10.7 points, 7.6 assists. But I shouldn't even have to go there. I mean, who really would think that a) Rondo is better than Chris Paul and b) that Rondo is more of a point guard than CP3? I can't get over this.
Now Shaq played with Rondo last season so he's probably friends with him, but when you become an analyst, that stuff is out the window. You've got to tell it like it is.
Oh, hang on.
"I am just going to tell the truth. I am not going to bash anybody. I don't like what you did in a particular game…I am gonna say it. I am not going to try to embarrass anybody, but you know just tell it like it is."
Well nevermind. Maybe he just doesn't have any idea what he's talking about.