Posted by Ben Golliver.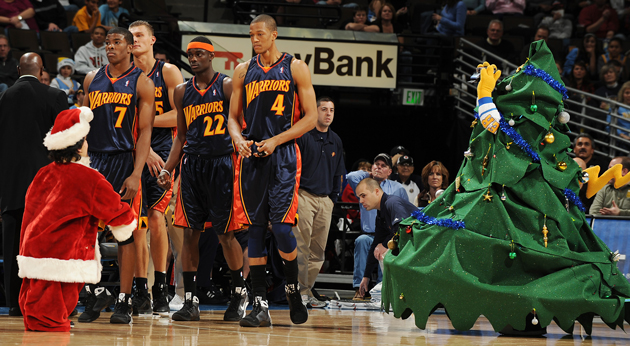 The NBA made its full 5-game Christmas Day slate official on Friday, releasing the opening night schedule in advance of Tuesday's full 2011-2012 schedule release. Here's a full game-by-game rundown for your holiday planning purposes. It's probably best to just ask for a divorce from your entire family right now.
Game 1: Boston Celtics at New York Knicks 12 p.m. ET TNT
A rematch of the 2011 Eastern Conference series that saw the Celtics rudely show the Knicks the door in four games, New York enters with homecourt advantage and, presumably, a return to full health.
Amar'e Stoudemire
's back should be better,
Carmelo Anthony
underwent offseason elbow surgery and veteran point guard
Chauncey Billups
who went down in the playoffs has had more than six months to get right.
The Celtics bring back their core four All-Stars in
Rajon Rondo
, Paul Piece,
Ray Allen
and
Kevin Garnett
, but there are plenty of questions as to who will make up the supporting cast. Be prepared to hear the words "last stand" for Boston and "Chris Paul" for New York ad nauseum on the broadcast.
Game 2: Miami Heat at Dallas Mavericks 2:30 p.m. ET ABC
The Big 3 and company must travel to Texas where the Mavericks will get to celebrate their 2011 NBA Finals victory over the Heat on opening night. Mavericks owner Mark Cuban couldn't have asked for anything more. Despite loads of roster questions and taking to the road on Christmas, Miami should enter the game as favorites, given that Vegas is convinced they are clearly the odds-on pick to win the 2012 title. Given how much time and energy
LeBron James
and
Dwyane Wade
spent working out and playing hoops this summer, it's a fair mantle to give them.
The big question for Dallas will be how much of last year's title-winners return? The roster is littered with free agents, including the staple of the defense, center
Tyson Chandler
, a major wing,
Caron Butler
, and key role guys in guards J.J. Barea and
DeShawn Stevenson
. The free agency period will be a flurry of activity in Big D.
Game 3: Chicago Bulls at Los Angeles Lakers 5 p.m. ET ABC
A marketer's dream: two supersize markets and storied franchises with two of the biggest names in the game head to head in the dream time slot on the league's showcase day. It was worth ending the lockout just for this game.
The Bulls will begin their quest back to the Eastern Conference Finals, hopefully with a new rotation piece or two to make the life of 2011 MVP point guard
Derrick Rose
easier. The Lakers usher in a new era under first year coach Mike Brown, who will have just a few weeks to learn that All-Star guard
Kobe Bryant
is in charge and his job is mostly to just push the right buttons when it comes to headcases
Andrew Bynum
(violent outrages),
Pau Gasol
(heart ache) and
Metta World Peace
(just about everything).
Game 4: Orlando Magic at Oklahoma City Thunder 8 p.m. ET ESPN
The biggest question mark on the schedule: What will the Orlando Magic look like on Christmas? With rumor after rumor swirling around All-Star center
Dwight Howard
, and GM Otis Smith admitting that he is now open to trade possibilities, Orlando will carry a massive media storm into Oklahoma assuming that Howard isn't already dealt. Guard
Gilbert Arenas
will likely be shown the door with the amnesty clause and the Magic figure to be players on the trade market given their mediocre, overpriced roster parts.
If the Magic figure to be engulfed in turmoil, the Thunder should be just the opposite. Oklahoma City returns every important member of its rotation, including All-Stars
Kevin Durant
and
Russell Westbrook
. A solid sleeper pick to win the 2012 NBA Finals, Oklahoma City has a carefully constructed top-8 that covers just about every base there is to cover. Playing in front of a raucous home crowd should make this a great coming out party for the maturing Thunder.
Game 5: Los Angeles Clippers at Golden State Warriors 10:30 p.m. ET ESPN
The nightcap will be headlined by All-Star forward
Blake Griffin
, the league's most explosive up-and-coming inside force. Griffin's still-underrated sidekick,
Eric Gordon
, will get a nice opportunity to reintroduce himself to a national television audience.
Golden State has undergone a major makeover from the ownership level on down over the last 18 months and new coach Mark Jackson will make his professional debut. The Warriors figure to trot out their excellent backcourt one-two scoring punch in
Monta Ellis
and
Stephen Curry
and may even have a revamped post presence if they are able to get something done during free agency. The fifth game on the NBA's Christmas slate has shootout written all over it. Staying up late will be worth it.