Posted by Ben Golliver.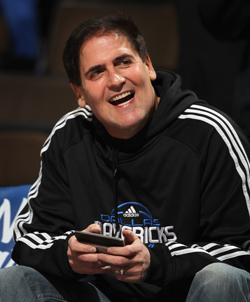 NBA front office executives: get your best pitch ready and start your engines.
ESPN.com reports
and Ken Berger of CBSSports.com confirms that direct contact between NBA teams and free agents will finally be allowed, beginning Monday.
NBA team executives and coaches will be allowed to start talking to players around the league Monday at 10 a.m. ET, according to league sources. Teams were notified Saturday that contact with players and free agents will be allowed Monday in advance of the scheduled opening of training camps Dec. 9.

Coaches/players will be able to have contact at practice facilities come Monday but coaches still can't oversee on-court workouts until camp Friday.

One more thing NBA teams are allowed to do starting Monday: Give physicals to free agents. So obviously free agent visits would be permissable, too.
Teams and player agents have been allowed to talk since last Wednesday, and a steady stream of rumored interest in free agents has trickled out in the 72 hours since.
What will this direct team-to-target contact mean?
For one, it will likely lead to some handshake deals between teams and free agents that allow the teams to plan their next moves. If a player accepts in principle, say, an offer of a full Mid-Level Exception, it would allow the team to focus its efforts on filling out the end of its bench or working to re-sign its own free agents. Getting a handshake before the free agency period could also help serve as a deciding factor in whether or not to use the Amnesty Clause on a certain player. If a replacement is lined up and ready to go, parting with a current player becomes that much easier.
What should fans expect? A flurry of reports early next week of players traveling to visit a city or cities in advance of the free agency window, shopping for the right fit and best contract. It's definitely possible that rumored agreements in principle could begin leaking out in advance of the official free agency period, too.
On Friday, then, expect a waive of more official contract reports as teams look to get their new signings into camp as quickly as possible in advance of the rapidly approaching preseason and regular season start dates. It's about to be a breakneck two weeks for the NBA, and it looks like the official beginning will be bright and early on Monday. Buckle up.