Posted by Ben Golliver.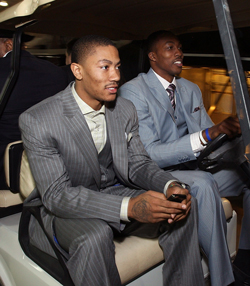 Almost as soon as the NBA and its players reached a tentative agreement to end the lockout and play a 2011-2012 season, Orlando
Magic
All-Star center
Dwight Howard
, who is eligible to sign an extension or hit free agency next summer, saw rumors engulf him. An offer from the New Jersey
Nets
was
floated out there
and word of his interest in the Los Angeles
Lakers
hit last weekend
.
A new suitor has emerged for Howard, the man who should have been the 2011 NBA MVP, and it's the team with the man who won the 2011 NBA MVP,
Derrick Rose
.
Yahoo Sports reports
that the
Bulls
, 2011 Eastern Conference finalists, are in the mix for Howard.
The Chicago Bulls are still a sleeper for Howard, several league executives believe. "Chicago may tell Orlando to take any two players – or three – besides [Derrick] Rose," one GM said. Howard isn't keen on the cold weather, but the Bulls would have the best point guard-center combination since Magic and Kareem.

The Bulls have Omer Asik developing fast as a potential replacement for Joakim Noah should the Bulls include Noah in a package. Noah would have to be a part of it, but would a combination of Noah and Luol Deng or Carlos Boozer – bringing back Howard and one of those bad Orlando contracts – be enough? The Magic need a force to replace Howard, an anchor.
Howard should salivate at this possibility. He gets a major market, prestigious franchise and a great fanbase. He gets arguably the best point guard in the game to set him up and a chance to compete for the next four NBA titles, at minimum. He has the ability to pursue a ring, increase his already considerable starpower and avoid the Shaquille O'Neal comparisons that would go with a move to the Lakers. Most importantly, he would get to transition to a contender that wouldn't need to over-extend and cripple its core to acquire him. It would be a step up, without question.
Sacrificing a piece -- or two, or three -- to upgrade from Noah to Howard is absolutely a worthwhile play for Chicago. Noah remains one of the league's most underrated players, given his rebounding prowess and defensive intelligence, but Howard is simply a two-way force unlike any other in the NBA. The Bulls lost to the
Heat
because they over-relied on Rose for scoring, couldn't exploit their advantage in the interior and couldn't keep up with the potent wing combination of
LeBron James
and
Dwyane Wade
. Howard solves the first two of those problems and his interior presence even helps out on the third. Swing a trade for Howard and add the right wing role player, and all of a sudden Eastern Conference supremacy is Chicago's and not Miami's.
While such a move is totally logical for Howard and from Chicago's side, it's nothing but question marks for Orlando. Taking back Boozer and the $60+ million owed to him through 2014-2015 in a trade is just about the dumbest thing anyone in the NBA could do. Sure, Magic GM Otis Smith traded for
Gilbert Arenas
last year, so impossible is nothing, but losing Howard to a major conference rival shouldn't require receiving one of the most overpaid players in the league in return, especially if your salary cap is as jacked up as Orlando's is. The best possible combination that Chicago can muster, from Orlando's perspective, is something like Deng and Noah (plus a salary to match plus cash and/or picks) for Howard and Turkoglu.
This is where philosophy comes into play. That proposed trade with the Bulls would prevent Orlando from taking three steps backwards but it wouldn't necessarily provide the type of starting-over flexibility that, say, the Net's package centered around
Brook Lopez
and multiple first round picks would. The Bulls' package would keep Orlando as a lower-seeded playoff team for the foreseeable future with a core of Noah, Deng, J.J. Reddick and
Jameer Nelson
. The Nets' package would likely require a stepback into the lottery but could mean a better shot at landing the next franchise player. For Orlando, this boils down to: try to rebuild on the fly or take it all apart?
For now, there's no huge rush on Orlando's part. Waiting allows a team like the Lakers, with either
Pau Gasol
or
Andrew Bynum
to dangle, to get seriously involved to provide a better "on the fly" offer. It also allows teams with cap space or young assets to top New Jersey's "take it all apart" offer. Let the vultures swarm and carefully wade through their offers.