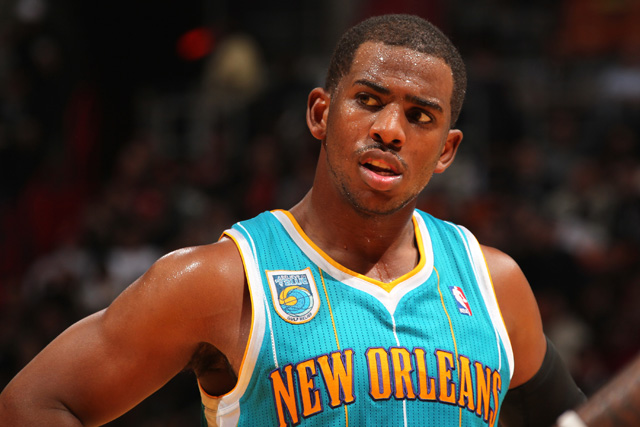 By Matt Moore


So there's kind of a lot going on right now in terms of
Chris Paul
. It's extremely likely that he'll still be a Hornet when camp starts Friday, and very likely that he'll still be one when the season starts on December 25th. But there has been such a deafening cacophony of intelligence (or absence thereof, depending on your view of the media) regarding who is in the Hunt for Paul, that we need to keep an eye on things.
Update 4 p.m. EST

Ken Berger confirms
an
ESPN report
that the
Warriors
talk has cooled Wednesday afternoon because the Warriors will not include
Stephen Curry
in the deal. Which is odd since Curry is a point guard in this league and why would you need CP3 and Curry? Curry can play the 2, he's got the range to be sure, but it would be such an odd fit to have two primary ball-handlers. Meanwhile, the
Contra Costa Times
/Inside Bay Area.com reports that the Warriors are willing to take on Paul
without an extension
(or assurances thereof, if the
Hornets
will take
Monta Ellis
instead of Curry. Ellis is a fine player but he has $22 million left over the next two seasons and another $11 million in an Early Termination Option year for 2013-2014. Kind of a trick for the Hornets to take on that salary.
9:00 a.m.:
Ken Berger of CBSSports.com reported Tuesday night
that the
Clippers
had made a substantial offer, including a sign-and-trade for restricted free agent
DeAndre Jordan
, but that
Eric Gordon
was
not
included.
Since then, the Warriors have gotten into the act. Here's the latest on the CP3 Chase.
Sports Illustrated reports:
But while Yahoo! Sports reported that Paul indicated the Clippers and Warriors could increase their odds of landing him long-term if they signed free-agent center Tyson Chandler, a source with knowledge of the situation said Golden State had not received that message. The Clippers, meanwhile, have no interest in signing Chandler, Pauls former teammate in New Orleans, because of their plan to re-sign restricted free-agent center DeAndre Jordan.
via
Warriors, Clippers,
Celtics
lead race for point guard Chris Paul - Sam Amick - SI.com.
So if the Clippers aren't giving Gordon, and they aren't giving DeAndre Jordan... what exactly are they giving? Because Al Farouq-Aminu is one of my personal favorite young forwards, but he and
Eric Bledsoe
along with the Minnesota pick aren't going to get it done. The whole reason the Clippers are in conversations is because they have more to offer New Orleans, not because they're some power franchise, even with
Blake Griffin
. There's simply no way the Hornets sacrifice Paul for that kind of package, no matter how good the 2012 draft class is. At that point, taking the
Knicks
' offer might be better for the cap savings. The Clippers are going to have to step up if they want to get the best pure point guard in the NBA.
Next up is the Warriors, and there's confusion about whether one of their guards is included as well.
SI.com in the same link as above says that the Warriors' offer for Paul include point guard Stephen Curry, young big man
Ekpe Udoh
, and rookie
Klay Thompson
. But, much like a high-school drama, ESPN says...
Sources said that the Hornets have actually been trying to convince the Warriors to part with Curry since before last season's trade deadline in February. But the Warriors could only stomach the inclusion of Curry if they knew Paul would extend his contract as part of the trade or at least commit to invoking his option for the 2012-13 season. According to sources, Golden State has received no such promises.
via
Free Agent Reports - TrueHoop Blog - ESPN
.
The issue here is that teams seem to not be aware that under the new CBA, the only way for Paul to get the most money and years he can is to opt-out and then re-sign. That's the only way for him to get the fifth year. It's going to require a leap of faith no matter what. If he goes to your team, and you win, then he re-signs. If you don't, then you need to go in a different direction anyway. But it's worth the shot. You're not going to get Paul with an extension. Not after the deal your owners pushed for.
Meanwhile the
Rockets
keep desperately trying to worm their way into the conversation. They have the best talent. But it won't happen. From Yahoo:
The Rockets would offer some combination of Kevin Martin, Kyle Lowry, Luis Scola, Patrick Paterson and draft picks.
via
Clips, Warriors, Celtics in Paul trade talks - NBA - Yahoo! Sports
.
Dallas is also mentioned, which is interesting.
Jason Terry
and
Jason Kidd
would be $18 million expiring in 2013, and they could offer
Roddy Beaubois
or
Dominique Jones
.
No one wants to make the premium offer or Paul. This is the problem when this stuff gets leaked. The Hornets can't get a deal fast enough before teams exert leverage using the fact that Paul won't re-sign in New Orleans. It's an impossible position for them.