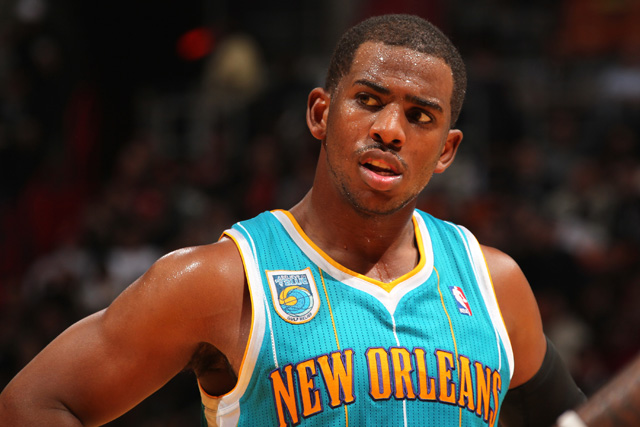 By EOB staff
So there's kind of a lot going on right now in terms of
Chris Paul
. It's extremely likely that he'll still be a Hornet when camp starts Friday, and very likely that he'll still be one when the season starts on December 25th. But there has been such a deafening cacophony of intelligence (or absence thereof, depending on your view of the media) regarding who is in the Hunt for Paul, that we need to keep an eye on things.
Yahoo Sports reports Chris Paul to the Lakers

Ken Berger confirms a
Yahoo Sports report
that the
Hornets
have begun informing teams they are sending Chris Paul to the Lakers for
Pau Gasol
and
Lamar Odom
in a straight-up deal.
More on this as it develops.
Hornets still exploring Celtics offer, might go without third team
Yahoo Sports reports
that the Hornets are starting to get past the idea of needing to bring in Indiana for a three-way deal with Boston and are instead exploring the idea of going straight up and taking the Celtics' offer of
Rajon Rondo
,
Jeff Green
via sign-and-trade, and the
Clippers
first-rounder. Ken Berger of CBSSports.com reports that a possible hang-up would be Jeff Green having to agree to the deal, which he may not if he's going to what would certainly seem to be a lottery team. It would be a great deal for the Celtics. For the Hornets, everything would come down to how that Clippers pick worked out, but at least they get two young above-average players and a quality pick, which is more than they would pull from the Lakers or in the three-way with Houston.
Speaking of,
David Aldridge of TNT/NBA.com reports more details
. The
Rockets
would send Martin and Scola (as outlined below), along with
Goran Dragic
and multiple first and second round picks. That's quite a haul. But considering the age of the two bigger names in the deal (31 and 28 for Scola and Martin respectively), the question is if the Hornets want to stay in the playoff race right now to ensure ticket sales and to stay competitive, or go young. The Hornets are still looking for the perfect deal, or at least the best one, and as of yet, that deal has not come available.
Lakers looking at a three-way deal with Houston to bring CP3 to L.A.?
2:19 p.m.
-- Could the Lakers and Celtics be going head-to-head for Chris Paul now?
Accoding to SI.com
, the Lakers, Hornets and Rockets are engaged in a three-way deal that would send Paul to Los Angeles.
We've heard this story before, but getting a third team involved is interesting. And what do the Rockets have to gain by jumping in? The Lakers have the pieces needed, I'd think, to pull off a trade with New Orleans. Pau Gasol,
Andrew Bynum
, Lamar Odom -- those are serious pieces. But Houston could ramp it up with extra picks and assets which could make this a very real scenario.

According to Yahoo! Sports
and
confirmed by Ken Berger of CBSSports.com
, some of the names being floated in this deal are Paul to L.A., Pau Gasol to Houston and
Kevin Martin
,
Luis Scola
and picks to New Orleans. That right there, is a blockbuster deal.
And if the Lakers were to manage this, they
could
conceivably put together a deal using Andrew Bynum and Lamar Odom to acquire
Dwight Howard
. It really is possible. Scary thoughts right there.
-- Royce Young
Celtics back in the mix for CP3?
11:33 a.m.
-- The Celtics are back in the action.
Yahoo! Sports reports
that with the Clippers and
Warriors
both unwilling to give up players who are not as good as Chris Paul (
Stephen Curry
,
Eric Gordon
) to get Chris Paul due to fear he will depart in free agency, the Celtics have re-emerged as a viable candidate despite Paul's reluctance to be traded there or sign long-term. It should be noted that the current reticence by both Golden State and Los Angeles completely overlooks the fact that under the new CBA, there is literally no financial incentive for Paul to sign an extension versus entering free agency and re-signing with their team once they prove they can win. And if they don't win, then the experiment is a failure and it's time to start over anyway. Considering both franchises won a combined 68 games last year, it's a bit odd. But the fear of a true rebuild is too devastating for them. Now on to the Celtics.
The Celtics situation goes something like this. Being Boston, they don't have the same fears as most franchises do in regards to players abandoning them. If they can win the title, then have the cap space in 2012 to make a run at Dwight Howard, that might be what it takes to sway Paul's mind and convince him to stay, so the risk would be worth the reward in trading for him without an extension or assurances he'll re-sign. Yahoo! reports a deal being offered involves a three-way-swap with Indiana, in which the
Pacers
get Rajon Rondo who the Hornets aren't gaga over, and the Hornets get
Darren Collison
, who they traded in 2010 to Indiana, back, along with
Tyler Hansbrough
,
Brandon Rush
, and draft picks. The Hornets want
Danny Granger
, but there's no indication if Indiana is open to that deal, despite Granger having been on the block for years. That's an
awful
lot for the Pacers to give up just to get Rajon Rondo, despite Rondo being one of the best point guards in the league. In short, he's not Chris Paul.
Meanwhile, a small note in the Yahoo! report says
Kobe Bryant
and Chris Paul have spoken by phone this week as the Lakers continue to try and land the ultimate coup of both Paul and Dwight Howard as well. So the heavy hitters are very much in the room on this.
The
Boston Herald reports
that a source close to Paul says the Celtics' window is too short, having only one year of contention. But if the Celtics were to immediately land Dwight Howard in free agency, that might convince Paul to re-sign, especially with the lure of the extra year available to the Celtics under the new CBA. Other teams would only be able to offer a four-year deal, vs. Boston's five. That might add even more incentive for the Lakers to pull of a trade for Howard, since it would block Boston from being able to put the two together, as well as, you know, giving the Lakers the best center in the league.
ESPN.com reports
that the Lakers are offering Pau Gasol as the centerpiece of any deal, while wanting to keep their best asset, Andrew Bynum, as a trade chip to attempt to acquire Howard. Gasol is 31 with three years and $57 million left on his deal, so it's hard to see the Hornets opting to take in Gasol, which would leave the Lakers trying to pull in a third team to make a deal with.
Finally, the
Knicks
are reportedly seeking a third and/or fourth team to try and trade
for Paul but aren't having much luck. Isiah Thomas' involvement in the Melo saga last year is the gift that keeps on giving.
We've joked about it before, we'll joke about it again. Like the owers said, this new CBA that cost the league 16 games will help improve competitive balance... for the top five teams in the league on both coasts. -
- Matt Moore