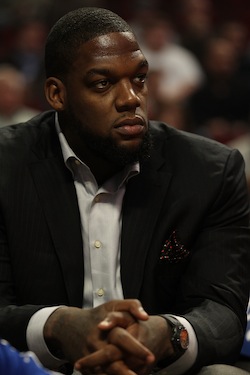 Posted by Royce Young
The Miami
Heat
and Eddy Curry have had an odd on-again, off-again relationship over the past few months. After getting a couple workouts in Miami late last season, the Heat passed on the former lottery pick.
But finally, Curry will be taking his talents, or what he has left of those, to South Beach.
According to HoopsWorld
, Curry will sign a deal with the Heat Friday, presumably for a year.
Curry was close to signing with the Heat last season but his weight and shape were an issue. Curry spent all summer working out and getting in better shape to try and win a deal with the Heat. His trainer, Tim Grover, said in October that Curry was in "excellent shape" and that there was "no question" he would be ready to join a team once the lockout ended.
Curry "played" last season on the Knicks but was dumped to the
Timberwolves
to help facilitate the trade that brought Carmelo Anthony to New York. He was then bought out of the remainder of his contract by the Timberwolves. He didn't appear in a single game last season and has played just 10 games combined since the beginning of the 2008-2009 season. So... get excited Heat fans!
The Heat are in desperate need of big man help, especially if their flirtation with
Samuel Dalembert
falls through. Even still, their lineup of old big men is falling apart as
Jamaal Magloire
has already signed with Toronto and it's unlikely they'd bring back
Erick Dampier
and
Juwan Howard
.
Dexter Pittman
is already there and sort of an Eddy Curry himself, but the Heat are willing to take a stab in the dark with Curry's talent.
It's a low-risk move for the Heat and a dream come true for Curry who has the opportunity to totally reinvent himself while also making an impact on a contending team.
I'm rooting for Curry. I'm a big fan of redemption stories and knowing the talent Curry has, or maybe had, he could still be
something
in the NBA. We make fun of Isiah Thomas and his outlandish contract he gave Curry, but he saw
something
. It's just a matter of getting it out of him.