Posted by Ben Golliver.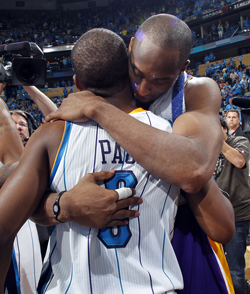 The New Orleans
Hornets
, Los Angeles
Lakers
and Houston
Rockets
are reportedly closing in on a blockbuster trade that would send All-Star point guard
Chris Paul
to the City of Angels.
Yahoo Sports reports the details
.
Hornets working to finalize details on 3-team deal to send Chris Paul to Lakers, Pau Gasol to Rockets and Lamar Odom, Kevin Martin, Luis Scola to New Orleans, sources say. It is likely that the Hornets will receive draft picks as part of a package for Paul, but source says: "Those are still being determined."

Besides Luis Scola, Kevin Martin, Lamar Odom and Goran Dragic, Hornets will also receive a draft pick from Houston, source says.
Ken Berger of CBSSports.com reports
that Paul-to-the-Lakers is "done" and that the three teams remain in "engaged in serious talks."
The Houston Chronicle reports
that the 3-way deal is a "done deal all around" and will be brought to completion once free agency officially opens on Friday.
Later Thursday,
Yahoo Sports
and
ESPN.com
both reported that the trade may not be completed on Friday, with one report indicating that unnamed NBA owners are asking NBA commissioner David Stern not to approve the deal. The NBA took over ownership of the Hornets last year and the league has yet to sell the franchise, meaning it possesses veto authority on all personnel moves.
Various versions of this deal have floated out the for roughly a week now. Let's take a look at this proposed deal based on what we know.
As noted on Monday
, going big-for-small for Los Angeles would allow the Lakers to drastically upgrade their biggest position of need. The
Derek Fisher
and
Steve Blake
combination simply wasn't going to deliver a title. Paul, arguably the league's best all-around point guard, would step into the void immediately making Lakers All-Star guard
Kobe Bryant
's life easier and seamlessly fitting into an inside-out game with Bynum. The biggest concern is trotting out an ultra-expensive backcourt that features two players with recent knee issues, but those concerns are alleviated to a degree by the fact that Paul and Bryant missed a combined two games last season.
This would be a dream scenario for Paul. He would get a major market, an elite teammate in Kobe Bryant, a psuedo-elite teammate in
Andrew Bynum
and a bunch of other tested pieces that are ready to compete for a title immediately. He now has a stable, loaded ownership group that will do everything in its power to ensure he competes for a title every season for the balance of his career. The Lakers, of course, could try to cash in Bynum in a separate deal, and Los Angeles has been linked to Orlando
Magic
All-Star center
Dwight Howard
in rumors recently.
Bryant, like Paul, is a major winner if this deal goes down as reported. Paul will help extend his career, facilitate his climb up the all-time scoring charts and help take on some of the on-court leadership that Bryant has mostly shouldered by himself. Paul also takes him a major step closer to a sixth title, a ring that would match Michael Jordan's career total.
The Hornets come out of this in pretty solid shape. Compared to the packages that Denver and Utah received for
Carmelo Anthony
and
Deron Williams
, respectively, the Hornets did well. They clear three proven players that complement each other fairly well in Scola, Martin and Odom and a serviceable fourth piece in Dragic. Odom is entering the final fully guaranteed year of his contract and therefore brings with him a nice of degree of flexibility. He can be re-signed or flipped in a trade, depending on what happens with free agents
David West
and
Carl Landry
.
The Rockets have been hoarding minor trade assets virtually forever and finally cash them in to land Gasol. He's a legit All-Star with multiple productive years left. But is he that significant of an upgrade over Scola that he's worth parting with three or more additional assets, especially at this stage of his career? Gasol is 31-years-old and can be a franchise centerpiece but he's not going to be the No. 1 option on a legit title contender. Neither is Scola, though, so perhaps moving out of Martin's 8-figure salary to build around Gasol is the new gameplan for the rebuilding Rockets.