Posted by Royce Young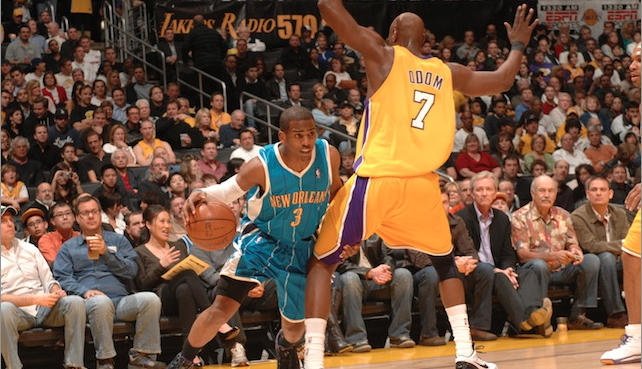 It was inevitable.
Chris Paul
wasn't going to start the 2012-13 season in New Orleans. The only question there was how much of the 2011-12 season he'd spend there.
The answer came late on Thursday, just a few hours before training camp and free agency officially opens: Chris Paul, pending a deal going through, will be a Los Angeles Laker.
Whoa. I mean,
whoa
.
The
Hornets
had to act quickly and swiftly in order to maximize the return on their franchise guy. The longer Dell Demps waited, the lower the asking price he'd have to slap on CP3.
So, what do they get in exchange for the guy that been been their face for the past six seasons? Is it anything close to equaling Paul's value?
Here's the breakdown: Chris Paul goes to L.A. with
Lamar Odom
,
Kevin Martin
,
Goran Dragic
and
Luis Scola
going to New Orleans. With a pick getting tossed in on the back-end of it (
Knicks
2012 first-rounder).
So really, the Hornets did pretty well. Not just well, actually. As good as they probably could possibly do. Chris Paul is a more valuable player than
Carmelo Anthony
, but in comparing this trade to that trade, the Hornets did
far
better than the
Nuggets
did. The Hornets get Odom, a player with a ton of trade value that they can flip for a young talent and a draft pick from Houston to help rebuild with. Or deal Martin and Scola as well to blow it all up and get a heap of talent and picks. Scola's not young at 31 and Martin is 28.
But here's the thing: If the Hornets wanted, they could just stick with this group for this season and
probably
make a postseason run. Dragic isn't the best point guard in the world, but he's certainly serviceable. And besides, Odom might be playing that more than anyone else in the end, if they so choose. Scola is a talented 4 and Martin is the posterboy for efficient scoring.
Dragic, Martin,
Trevor Ariza
(or Odom), Scola and
Emeka Okafor
. With Odom (or Ariza) off the bench. That's a pretty good group of six, no? This team could conceivably be a playoff contender for the next two seasons and then figure out where to go from there after that when they presumably have new ownership.
Considering the circumstances, it's hard to imagine how the Hornets could've done better outside of baiting the
Clippers
into giving them
Eric Gordon
and that unprotected pick from Minnesota. And even still, New Orleans has options right now. Lots of them. They can stick with the current roster, maintain a level of flexibility (Martin expires in 2013, Scola in 2014 and Odom after this season), and look to rebuild in the coming years.
Replacing a player like Chris Paul is pretty much impossible. He's meant everything to your franchise and taken you to unseen levels of success. But he wasn't staying. And the team wasn't going anywhere this year with him anyway. Demps did the wise thing and cut his losses. It's just a matter of how well he did and in this case, I'd say his return is just about as good as it could be.
Grade: A-