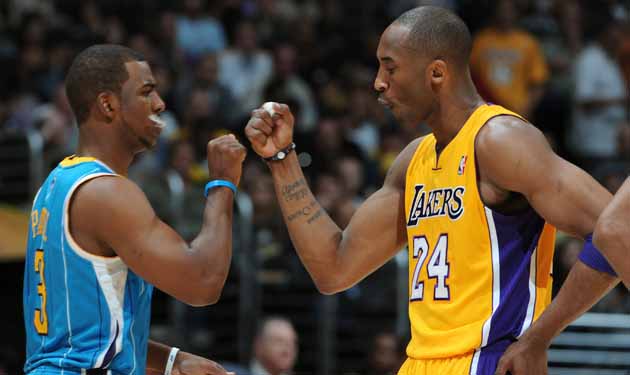 By Matt Moore
It's good to be on top.
The Los Angeles
Lakers
have agreed to a deal to acquire
Chris Paul
from the New Orleans
Hornets
in a three-way deal with the Houston
Rockets
. Los Angeles trades
Lamar Odom
to New Orleans and
Pau Gasol
to Houston, while the Rockets send
Luis Scola
and
Kevin Martin
to New Orleans.
Kaboom.
The Lakers missed the NBA Finals by two rounds last year, getting swept by the Dallas
Mavericks
. They watched Chris Paul destroy them in the first round, showing some of their weakness. So they went out and got him. They have acquired the best point guard in the NBA, their best point guard since
Magic
Johnson, and gotten a premier All-Star in his prime to pair with
Kobe Bryant
on his way towards the sunset.
The Lakers are clearly not done, and will continue to pursue a deal to trade
Andrew Bynum
to the Orlando Magic to bring
Dwight Howard
and create their own big three, arguably a better one than the one in Miami. It's an arms race in the NBA, and the Lakers have the biggest budget and most capital to use. And so they have responded to all this
Knicks
-Heat-Chicago nonsense with their own move, after helping kickstart the race three years ago by acquiring Pau Gasol from Memphis. They're one move away from checkmate.
In the interim, the team did lose a lot of talent. Pau Gasol has flirted with "best big man in the game" for the past three seasons prior to last spring's meltdown. Lamar Odom is a hyper-athletic, versatile veteran who has been a part of three Finals teams and two championships. Neither on the right side of 30, but both still have a lot of value left.
And yet, the takeback is staggering. CP3, in his prime, to provide Kobe Bryant with the clutch guard he's never had. Even in losing their frontcourt, leaving them with a gaping hole at power forward, and even without a trade for Howard, the Lakers now feature Chris Paul able to lob to Andrew Bynum and kick to Kobe Bryant. And for Paul, whose knees are a question mark, to have Bryant to handle the ball and take the load off, he may have extended his career by four seasons.
For Bryant, it may be a rough transition giving the ball up. But it also means no more wondering about his teammates. There will be no outraged glares at Paul. He won't blow defensive assignments. He won't miss Bryant when he's open. Instead, if Bryant is open for a half-second inside, on the wing, or at half-court, Paul will find him. Bynum also comes away big in this deal. He's never had a guard to work with his insane athleticism. Bynum on the pick and roll, rolling to the basket for an alley-oop? It's Paul, the master of the alley-oop, dishing it now.
Do the Lakers have holes now? Absolutely. Starting with power forward, the length they've enjoyed inside to disrupt passing lanes and tip-in misses is gone, even with Bynum still in place. They've lost a perennial Sixth Man of the Year candidate, and they're just as weak at backup center as ever. They've lost a lot of scoring, a lot of rebounds, a lot of defense. But they gained one of the top five players in the league and have positioned themselves expertly to add a second if they can lean on the Magic enough. With or without Howard, if you pull a deal to get the best player in the league at his position (
Derrick Rose
is not a point guard, he's a Derrick Rose), you get an A.
Grade: A