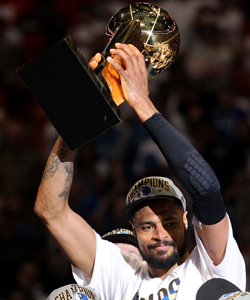 By Matt Moore
The
Knicks
have their man, and it's not CP3. Even after talks broke down in a deal that would send
Chris Paul
to the
Lakers
, leaving open the possibility of the point guard joining the team he toasted in 2010, the Knicks have agreed to a deal with center
Tyson Chandler
.
Ken Berger of CBSSports.com reported Thursday
that the Knicks had moved to the front of the line for the 29-year-old veteran who was a key component in the Dallas
Mavericks
' championship run.
Chandler
joined a Dallas radio station Friday
to
announce he would sign
with New York and thank fans and the Mavericks organization. Dallas is clearly pushing to clear cap space in advance of 2012's free agency class, which seems to be narrowing every second, with both Chris Paul and
Dwight Howard
heavily involved in trade rumors that would put them on teams they would then re-sign with in July.
The
New York Times
reports his asking price was a four-year, $58 million deal, which puts him at an average of $14.5 million per year. Compared to the ridiculous amount the New Jersey
Nets
are reportedly offering Nene, that makes Chandler a steal. It's a big win for the Knicks, who need a better interior defender and legitimate center. There are injury concerns with Chandler along with his age, but in a league that's short on big men, and for a team so despereately in need of defense and rebounding, this was a spectacular fit.
Chandler,
Amar'e Stoudemire
, and
Carmelo Anthony
now make up arguably the best three-man frontcourt in the league. With Melo's perimeter range, Stoudemire's post and elbow offense, and Chandler's ability to clean up the offensive glass, the Knicks will be in a prime position to contend for the Eastern Conference Finals at the very least. To get this deal done, however,
Chauncey Billups
will be amnestied, something Billups is dead set against, and the Knicks will have to find some way to bring in a competent starting point guard.
Toney Douglas
hasn shown flashes but not enough overall, and rookie
Iman Shumpert
is an unknown at this point, playing under Mike D'Antoni who's not the rookie-friendliest coach in the league.
But Chandler does address immediate concerns, and helps out Stoudemire immensely. Stoudemire is a poor help defender, and Chander is excellent at that. Stoudemire lacks the length and size to play center, Chandler is a pure five. Stoudemire struggles with double-teams in traffic, Chandler can finish off dum-offs. And Stoudemire is an attrocious rebounder and Chandler is of high caliber.
The Knicks have a big man, a true 5. They may not get Chris Paul, but they're going to be a better team in 2011-2012.