Posted by Ben Golliver.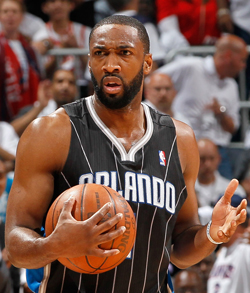 The most obvious cut has now been made.
The Orlando
Magic
announced on Friday that the team is waiving guard
Gilbert Arenas
using the amnesty clause that is provided under the NBA's new collective bargaining agreement.
The Orlando Magic have waived guard Gilbert Arenas and designated him as the team's amnesty player, President of Basketball Operations/General Manager Otis Smith announced today.

Arenas (6'4", 215, 1/6/82) played in 70 games with both Washington and Orlando last season, averaging 10.8 ppg., 3.9 apg., 2.7 rpg. and 1.06 stlpg. in 25.7 minpg. He was acquired by the Magic on December 28, 2010 from Washington in exchange for Rashard Lewis. In 49 games with Orlando, Arenas averaged 8.0 ppg., 3.2 apg. and 2.4 rpg. in 21.8 minpg.

Arenas has appeared in 535 career NBA regular season games with Golden State, Washington and Orlando, averaging 21.2 ppg., 5.4 apg., 4.0 rpg. and 1.63 stlpg. in 35.8 min pg.
Arenas was owed more than $62 million through 2013-2014. The Magic will now be able to remove his $19 million contract off of their salary cap number and luxury tax bill this season.
Arenas has played in just 117 combined over the last four NBA seasons due to chronic knee injuries and a lengthy suspension for bringing firearms into the Washington
Wizards
locker room. Magic GM Otis Smith had hoped a change of scenery might do Arenas some good, dealing Rashard Lewis for Arenas last season, but Arenas' effectiveness was limited.
While Arenas represented the NBA's worst contract, it's possible that someone places a low-bill bid for his services in the blind amnesty waiver process. It's also possible his many off-court red flags and controversial statements (
including inappropriate Twitter posts
) could lead teams to steer clear. Arenas, 29, will eventually catch on with someone, somewhere, but it remains an open question how many bridges he has left unburned.