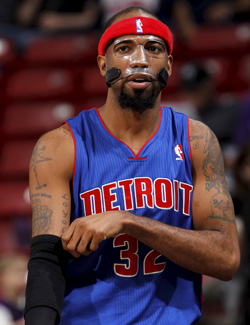 Posted by Royce Young
UPDATE:
The team made it official Monday via press release.
Said Joe Dumars: "Rip was a champion and a big part of our success."
---
After
Caron Butler
went to the
Clippers
,
Grant Hill
back to Phoenix and
Shane Battier
to the
Heat
, it looked like this free agent class was getting picked over on the wing spot.
Still Vince Carter and
Richard Jefferson
dangling, but still not a deep lot. Well, add another veteran buyout casualty.
According to the Detroit Free Press
,
Richard Hamilton
will be bought out by the
Pistons
. Not waived via amnesty -- just bought out.
Hamilton is 33 and had $25 million left on his deal for this year and next. His production declined last season during a wild year in which he was part of a veteran group that kind of rebelled against coach John Kuester.
Last season, Hamilton averaged 14.1 points and 3.1 rebounds per game and appeared in just 55 games. At one point, Hamilton was stuck as inactive and didn't play for an extended stretch.
Hamilton clearly has some decent basketball left in him, but the Pistons are trying to get a bit younger and with last season's issues, it's probably best to move on from Rip.
Potential suitors? The
Bulls
have to jump to the top of the list who are definitely in the market for a shooting guard. Hamilton's not the longer term scorer like a
Jamal Crawford
would be, but he is a veteran scorer that will produce. Also look for the
Nets
and
Spurs
to throw their names into the mix as they're both in the market for a reliable scorer.