Posted by Ben Golliver.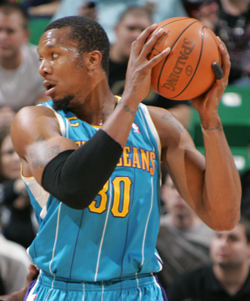 The Boston
Celtics
and the New Orleans
Hornets
are reportedly working on a trade, only it's not the one you think.
The Celtics and Hornets had recently been rumored to be engaged in a point guard swap of
Rajon Rondo
and
Chris Paul
but multiple sites reported on Friday night that the two teams were instead closing in on a sign-and-trade that would send All-Star forward
David West
to Boston.
NBA.com reported
that the Celtics were "close to [a] deal to land West, who is a free agent.
Yahoo Sports reported
that the deal would include a 3-year extension worth between $27 and $29 million and would also see the Celtics send back center
Jermaine O'Neal
and "another player," who would then be re-routed by the Hornets.
Earlier Friday
, the Celtics dealt big man Glenn Davis to the Orlando
Magic
for forward
Brandon Bass
.
West, 31, averaged 18.9 points and 7.6 rebounds per game last season for the Hornets, the only NBA team he has played for during his 8-year NBA career. The 2-time All-Star tore his ACL
back in March
but
decided to opt out
anyway. He was
declared healthy
in October.