Posted by Ben Golliver.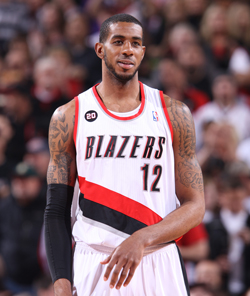 PORTLAND, Ore. -- Bad things happen in threes.
The Portland
Trail Blazers
announced on Friday that forward
LaMarcus Aldridge
underwent a successful ablation procedure to correct a recurring problem with his heart.
Portland Trail Blazers forward/center LaMarcus Aldridge underwent a successful procedure today to evaluate the status of the electrical system in his heart, it was announced today by the team. He will be sidelined for 5-7 days before he can return to practice. Aldridge, who was diagnosed with Wolff-Parkinson-White Syndrome in 2007, underwent a similar procedure to correct the problem at the time of diagnosis.
Aldridge's diagnosis and procedure occurred on the same day that the Blazers confirmed that guard
Brandon Roy
would
pursue a medical retirement
and that center
Greg Oden
had
suffered a "setback"
in his rehabilitation from a Nov. 2009 microfracture that puts his availability during the 2011-2012 season into question.
Blazers Acting GM Chad Buchanan told reporters on Friday that Aldridge visits a cardiologist annually for testing and that an analysis of his stress echo exam revealed the need for an ablation procedure that "eradicated an extra node" in Aldridge's heart.
"Going through his appointment with his routine check-up today they found a recurrence of that so they addressed that today," Buchanan said. "We expect LaMarcus to be back within a week or two weeks. The doctors feel really good about things. Obviously it's a little disappointing for LaMarcus but we're very optimistic that he'll be back on the court here in a short amount of time."
Despite the relatively good news, Buchanan admitted he had been extremely nervous.
"Obviously LaMarcus was a scare," Buchanan said. "I'm not going to lie about that."
Aldridge, 26, was widely regarded as a 2011 All-Star snub, averaging a career-high 21.8 points and 8.8 rebounds per game.
"Thanks for the support everybody," Aldridge
tweeted on Friday night
. "I'm feeling better and will be ready to go in a few days."
The Blazers open the season on Dec. 26, when they host the Philadelphia
76ers
. Aldridge's current timeline means he should be ready in time for opening night.
Aldridge sat out the balance of the 2006-2007 season, his rookie year, when the Wolff-Parkinson-White Syndrome diagnosis was first made.