Posted by Ben Golliver.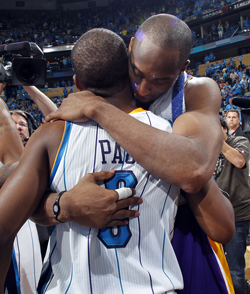 Update 5:05 p.m.:
Yahoo Sports reports
that in the revised trade, Houston will be sending more young players to New Orleans. This is going to get tight with the money and for Houston post-trade.
--
Take two!
Two days after NBA commissioner David Stern stepped in to veto a 3-team trade that would have sent New Orleans
Hornets
All-Star point guard to the Los Angeles
Lakers
, the three sides have reportedly sent in a new proposal to the league office for consideration.
ESPN.com reports
that the Hornets, Lakers and Houston
Rockets
have crafted a new deal for Stern to consider, although the full details are not yet immediately known.
Yahoo Sports reports
that the Houston Rockets would send Kevin Martin,
Luis Scola
and a draft pick to New Orleans, as they had in the original offer, but that deal tweaks will occur between the Lakers and Hornets. The original proposal had the Lakers sending forward
Lamar Odom
to the Hornets and All-Star big man
Pau Gasol
to the Rockets.
Ken Berger of CBSSports.com confirms
that a "framework of revamped trade agreement" has been reached among the parties and that it is now "pending approval of the commissioner." Berger reports that the Rockets' role in the trade is "virtually unchanged," with Houston receiving Gasol in exchange for the package going to New Orleans. He also confirms that the deal tweaks will come between Los Angeles and New Orleans.
The New York Times
reported on Friday that the league urged the Hornets to get a "better, younger package" in exchange for Paul to ensure long-term success for the struggling franchise.
Talks then resumed
, with
Berger reporting
late Friday night that the three sides continued to work into the night, with sources saying that the deal "still had a chance."
Those talks picked up where earlier talks had left off, as the three sides had reportedly agreed to a framework earlier on Thursday before word broke that Stern killed the deal in his role as overseer of the league-owned Hornets. The NBA initially said the trade had been vetoed for "basketball reasons" and
issued a full statement
on Friday morning.
"We decided, free from the influence of other NBA owners, that the team was better served with Chris in a Hornets uniform than by the outcome of the terms of that trade," Stern's statement read.
Cleveland
Cavaliers
owner Dan Gilbert
sent a letter
to Stern that called the proposed trade a "travesty" while
players criticized Stern
for stepping in to block the trade.