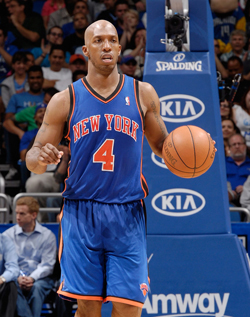 Posted by Royce Young
Just a few months after the
Knicks
exercised their $14.2 million option on
Chauncey Billups
, they were turning around and using the amnesty clause to cut him and that $14.2 million off the salary cap.
Why? In order to sign big man
Tyson Chandler
, but the fact Billups was axed with seemingly no second thought, especially with the team not really having a point guard to replace him, was a bit surprising. Not just to us, but to him.
And he was ready to vent a bit about it.
Via ESPN NY
, Billups talked about getting waived, the Knicks, what his next plans are and where he wants to go.
On the Knicks: "I think they are probably a couple of pieces short, but I wont say what those pieces are." Presumably a point guard, right?
On his place within the organization: "From the first day I got there it was about who was going to be next point guard, without giving me a real chance. The whole deal with Denver was about Melo ... But I dont think the Knicks valued what else they got in the deal.
"If Im healthy versus Boston, we've got a really good chance in that series. But once I got hurt "it's like (the Knicks) forgot all about the impact I did have on that team."
Billups said that he doesn't see the Knicks succeeding by running the ball through
Carmelo Anthony
, "especially in Mike's system, where the point guard is so important."
Billups also played a strange "woe is me" card though saying that he's been through a lot and that the Knicks didn't give him a fair chance.
"I dont know of any player of my magnitude ... thats gone thru what I've gone through. Not one," he said. "It's not in my makeup to be selfish, but it just feel like this time i need to be a little more concerned with me ... I can go back 13, 14 years where everyone loves me and yet I'm always the one who pays the price."
What's next for him? He heads to the waiver wire where any team can claim him. If nobody does, then he'd become a free agent. But it's not that simple for Billups.
"If I get claimed by team I dont want to play for, I would absolutely consider retirment," he said. Would one of those teams possibly be the
Heat
?
"I want a chance to win, so any team that's playing for it all, I'd be interested in ... I'm still playing at a high level. I'm not interested in going somewhere to be a mentor coming off the bench."
The better the team, the better a chance Billups would get another shot at the team that seemingly cast him aside without much thought.
"I would like a chance at them, I'll tell you that much," he said. "I'd absolutely love that."