Posted by Ben Golliver.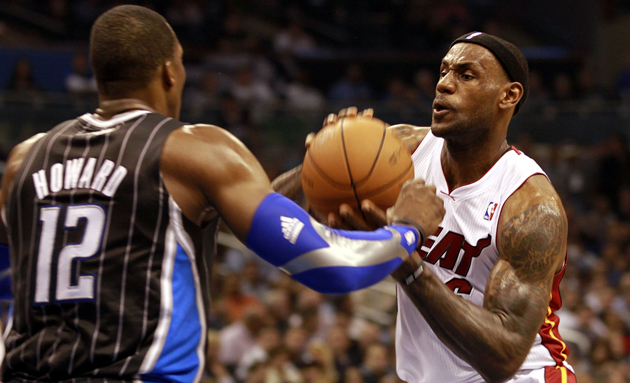 We're less than two weeks away from the start of the 2011-2012 NBA season. After an interminable lockout and a rushed free agency period, here's a first look division-by-division preview at how the league is shaping up. We begin with the Southeast Division.
2011 Standings
1. Miami
Heat
, 58-24, lost in NBA Finals
2. Orlando
Magic
, 52-30, lost in first round of Eastern Conference playoffs to Atlanta
Hawks
3. Atlanta Hawks, 44-38, lost in second round of Eastern Conference playoffs to Chicago
Bulls
4. Charlotte
Bobcats
, 34-48, NBA Draft Lottery
5. Washington
Wizards
, 23-59, NBA Draft Lottery
Best team: Miami Heat
The Miami Heat proved they were the best team in the Eastern Conference by a significant margin when they dismantled the Chicago Bulls in the playoffs last year. The 2011-2012 version brings all the key pieces back and features one major upgrade: free agent wing
Shane Battier
. The Heat retained point guard
Mario Chalmers
and forward
James Jones
, avoid using the amnesty clause on forward
Mike Miller
, and get to enjoy a full year of a healthy
Udonis Haslem
. Free agent big man
Eddy Curry
steps in to provide depth behind center
Joel Anthony
too. Those are all good things, and I haven't even mentioned the Big 3 yet:
LeBron James
,
Dwyane Wade
and
Chris Bosh
. All return with a renewed purpose plus redemption as motivation, and all three spent the lockout getting themselves in top shape to accomplish their goal of winning a title.
Anything less than a ring will be a major disappointment. Now that coach Erik Spoelstra has had the experience of going through the fire once, he should be more ready than ever to guide the Heat to some major regular season and postseason accomplishments. 55+ wins in a 66-game schedule isn't outside the realm of possibility for Miami, although they will surely be careful limiting minutes for James and Wade down the stretch in anticipation of the playoffs.
Worst team: Charlotte Bobcats
This is Year One of what will be a multi-year rebuilding process under new GM Rich Cho, who brings overhauling experience from his days as an assistant GM in Seattle/Oklahoma City. There are some intriguing young pieces -- particularly rookies
Kemba Walker
and
Bismack Biyombo
, assuming the latter is finally available -- and one proven veteran in
Corey Maggette
but this season will be a tossaway for owner Michael Jordan, who will continue to look to cut costs and position the team for a high draft pick in a loaded 2012 lottery.
Biggest surprise: Orlando Magic


The upstart Washington Wizards have the potential to pleasantly surprise, but the looming trade of center
Dwight Howard
almost guarantees that Orlando's season will be the biggest surprise. And it's already off to a wacky start, with drunk dialing, resignations, layoffs and a major signing of
Jason Richardson
. Who could have predicted all of that two weeks ago? No one. And the Howard rumors are just beginning. Everything from a total rebuilding effort to a desperate spending spree to appease Howard is currently on the table. The Magic will be a daily surprise.
Three Best Players: LeBron James, Dwight Howard, Dwyane Wade
Nowhere is the talent gap between superstars and everybody else more clear than the Southeast Division. The top-heavy Heat boast three of the top-15 players in the league while Howard is a top-3 talent. Nobody controls the action better than James, there isn't a better 2-way force than Howard and Wade is arguably the best crunch-time performer in the game. You can't go wrong with any of those three, and the drop between the trio and Bosh, the next best player in the Division, is steep.
Biggest Question: Will Orlando trade Dwight Howard?
All signs point to yes on the Magic finally parting with Howard. It was surely be a painful process, no matter how long it takes or how many pieces are received in return. The No. 1 overall pick in 2004, Howard has been everything you could hope for from a modern center and a marketing machine, missing just five games in seven seasons and posting ridiculous statlines (at least a double-double every year plus leading the league in blocks twice) along the way. If Orlando Magic GM Otis Smith is able to temporarily mend the fences between himself and Howard, he's likely to find out that slow-playing the trade process will result in some amazing offers for Howard's services. Howard should have been the 2011 NBA MVP and he plays the games' most coveted position. Someone will throw the franchise at Orlando for the rights to acquire him. It's only a matter of who and when.
2012 Projected Standings
1. Miami Heat
2. Atlanta Hawks
3. Orlando Magic
4. Washington Wizards
5. Charlotte Bobcats