By Matt Moore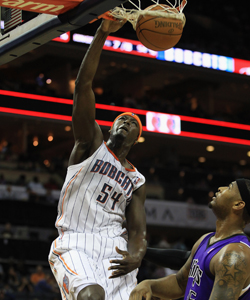 Ken Berger of CBSSports.com reports
that
Kwame Brown
has signed a one-year deal with the Golden State
Warriors
for $7 million dollars.
The Warriors had signed
DeAndre Jordan
to an offer-sheet this weekend but the
Clippers
matched the offer on Monday and will keep the younger, more talented center for a hefty price. The Warriors have been shopping for a center this offseason to beef up their defensive front. It was widely speculated that they would amnesty
Andris Biedrins
, but instead used the clause on
Charlie Bell
.
Brown is notorious as a bust for Michael Jordan's
Wizards
, and for being complicit in the playoff disasters of the mid-00's
Lakers
. But very quietly he had a quality season in Charlotte. He's not worth $7 million but for a one-year, desperate to get a center, it's not the worst move in the world. He is wildly overpaid but looking around the center-short league, it's hard to find many outside of
Dwight Howard
who aren't overpaid.
Still, not exactly the start Golden State was hoping for under new ownership from Joe Lacob and Peter Guber, a new management committee and new coaching under Mark Jackson.