Posted by Ben Golliver.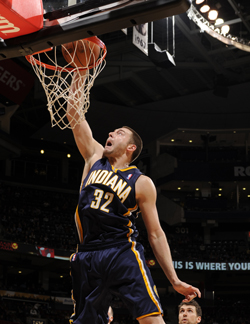 The NBA's game of "power forward musical chairs" continued on Tuesday.
Yahoo Sports reports
that Indiana
Pacers
power forward
Josh McRoberts
has signed a 2-year deal for $3 million per year with the Los Angeles
Lakers
. The Lakers, who are in the luxury tax, used their mini-Mid-Level Exception to complete the signing.
McRoberts helps fill the hole created when
Lamar Odom
requested a trade from the Lakers this past weekend and was
promptly dealt
to the Dallas
Mavericks
. Indiana, meanwhile, also
agreed to a 2-year deal
with free agent forward
David West
, rendering McRoberts extraneous.
Over the past few days, rumors circulated that Indiana would trade McRoberts to the Memphis
Grizzlies
in exchange for guard
O.J. Mayo
, but clearly the Duke University product found a better option.
Given Odom's departure, much will be asked of McRoberts, who brings with him a good motor and fairly solid skills. Aside from top-flight starters
Pau Gasol
and
Andrew Bynum
, the Lakers' frontcourt is pretty barren, and McRoberts should serve as a cost-effective, reliable hole-plugger in that regard. Still, he's a massive downgrade from Odom, one of the league's most versatile and talented stretch fours.
McRoberts, 24, was a second round pick by the Portland
Trail Blazers
in the 2007 NBA Draft but was traded to the Pacers on the night of the 2008 NBA Draft along with forward
Brandon Rush
in a deal that sent guard
Jerryd Bayless
to Portland. McRoberts averaged 7.4 points and 5.3 rebounds for the Pacers in 2010-2011, both career-highs. He started 51 games for Indiana last season.