Posted by Ben Golliver.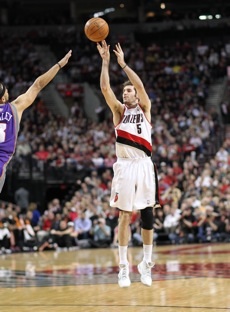 Grand opening. Grand closing?
Guard
Rudy Fernandez
's career with the Dallas
Mavericks
may be over before it even started.
TuBasket.com
and
ESPN.com
both reported on Tuesday that the Mavericks will move the moody shooting guard to the Denver
Nuggets
. ESPN.com reported that the Mavericks would receive a future second round pick and included reserve guard
Corey Brewer
in the deal as well.
NBA.com
quickly confirmed those details.
The Mavericks acquired Fernandez from the Portland
Trail Blazers
on the night of the 2011 NBA Draft for a first round pick that the Blazers re-routed to the Nuggets with guard
Andre Miller
in a trade for
Raymond Felton
. During the lockout, Fernandez, a Spanish national team player,
signed a multi-year contract
with Real Madrid.
Brewer, a lithe wing, signed with the Mavericks in March after getting bought out by the New York
Knicks
after they acquired him in a trade with the Minnesota
Timberwolves
that helped facilitate the acquisition of All-Star forward
Carmelo Anthony
.
Recent reports indicated
that Fernandez, who regularly complained at his role in Portland, would not be happy in Dallas if he did not receive ample playing time and was considering requesting a buyout. Following the 2011-2012 season, Fernandez is free to return to play for Real Madrid. He reportedly had
issues with his travel visa
that delayed his arrival to Dallas' training camp.
On Monday, Dallas
announced the signing
of free agent wing Vince Carter and reports surfaced that the Mavericks had signed free agent guard
Delonte West
as well. Over the weekend, Dallas
swung a trade
for Los Angeles
Lakers
forward
Lamar Odom
, too, giving Dallas 11 players competing for playing time at the one, two and three positions.
Fernandez, 26, has not yet delivered on the considerable hype he brought with him to the NBA following the 2008 Olympics, where Spain won the Silver Medal. Last season, Fernandez averaged 8.6 points and 2.5 assists in 78 games for the Blazers.
Brewer, 25, played just 13 games for Dallas last season, posting season averages of 8.0 points and 2.5 rebounds per game in 69 combined appearances for the Mavericks and the Timberwolves.