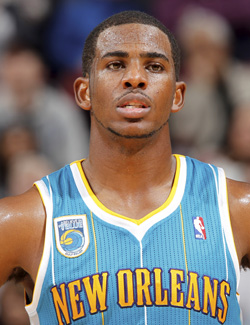 Posted by Royce Young
There was a lot of anger and frustration after the NBA vetoed the original
Chris Paul
trade that would've sent CP3 to the
Lakers
. Emotional reactions, threats and big talk.
One of those things was that CP3 might pursue a lawsuit against the NBA for collusion. It seemed to have a good amount of steam early on, but felt like one of those things that would melt away as everyone sort of moved on.
But it hasn't. At least not for CP3.
According to the NY Daily News
, Paul and the union could be taking action soon.
"A source told the Daily News Tuesday that Paul could file a lawsuit 'in the next couple of days' charging the NBA, which owns and runs the Hornets, with collusion and violating the league's collective bargaining agreement. The NBA's labor deal has an anti-collusion clause that prohibits teams from conspiring with the league to influence contracts, signings or transactions."
I always thought the lawsuit thing was more of a threat than an actual thing, but at some point, you've got to follow through I guess. Especially when things don't change.
The million dollar question is though, does CP3 actually have a case? Could he win?
Brian Windhorst of ESPN.com makes the case
saying that Paul really doesn't have much of a shot:
"Not a lawyer but just don't understand how CP3 has grounds for suit. He is not a free agent. He's under contract to play for New Orleans and being paid. Part of contract is ownership, whoever it is, can choose to trade him or not trade him anywhere/for anything they want. This is the deal. Been in contact with several labor attorneys. They all agree Paul/NBPA has case under federal labor law. Most don't think he'll win."
But don't think just because someone can't win is reason enough to not try. Not many actually thought the players union would win a lawsuit against the league during the lockout, but they went ahead with it anyway to try and gain a sense of leverage and control. Right now, the NBA and David Stern are completely in control of the CP3 trade talks, but the Paul camp is trying to at least grab a small piece of that.
A lawsuit makes a statement that this isn't OK, that CP3 isn't just going to be a napkin blowing in the wind, taken wherever the league may feel like. It's a worthy and probably necessary effort, even if it's a futile endeavor.