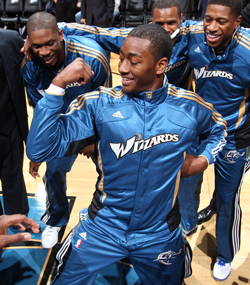 Posted by Royce Young
Don't laugh. Because
John Wall
sounded serious.
He thinks the
Wizards
will be a playoff team.
Via Sports Radio Interviews
, he was asked on 106.7 The Fan in D.C. is the Wizards are a playoff team:
"I think so. Last year, we was ahead of Philly at one point and then they went on a 15-game winning streak. The most winning streak we had was two games and that was near the end of the season. … I think, going in, the main thing for us that's really going to help us, in our first of two road games, we have to win one of those games. If we lose those two games, you start thinking of last year and the guys from last year start thinking, 'Is this another year of losing a lot of road games?'"
I looked it up and the
76ers
' longest winning streak was four, not 15. Maybe four kind of seems like 15 when you struggle to win two straight and overall go 23-59 which was 18 games behind Philadelphia.
But whatever. That was last year, this is this year. And the Wizards have a bit of talent headlined of course by Wall.
Nick Young
, if he returns, is a nice scorer,
Andray Blatche
, when his head's on straight, is a good player. Same goes for
JaVale McGee
. Who knows what rookie
Jan Vesely
is capable of.
Rashard Lewis
might have a little left in the tank.
And in the East where sometimes being three or four games under .500 is good enough, the Wizards might be able to make a push. Or at least think about a push.
Still, this team is just a step away from being completely dysfunctional. There are headcases, borderline headcases and disgruntled veterans all over the place. Wall has enough talent to make you believe it's somewhat feasible, but just the makeup of the roster does not.
I hate saying a team doesn't have a shot and Wall should absolutely believe they do. Everyone is in first place right now. With just 66 games, a 3-1 start could mean the Wizards can think about it. But I don't see how this team is any better than the one that won 23 games last season. Sure, Wall is set to take a leap this season, but how many wins would that be worth? Five? He still needs help and unless Blatche or McGee is ready to snap out of it or Vesely is something special. the Wizards are still probably a year or two away.